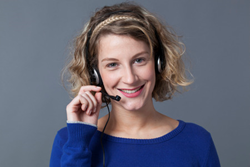 While other companies are raising prices and cutting important features, Conversational is growing their service offering to match what their clients are asking for.
Los Angeles, California (PRWEB) November 01, 2016
Virtual receptionist and virtual assistant provider Conversational is revamping their virtual assistant service, a relatively new offering that the company originally unveiled in June of 2016, with more features than before to provide additional coverage to clients.
Conversational's main offering, virtual receptionists, are different from virtual assistants. Virtual assistants offer a more diverse range of features and possibilities, and when Conversational began offering virtual assistant services this summer, they did so while offering the standard virtual assistant features.
Today, after working with virtual assistant clients for several months and closely monitoring client feedback during that time, the company is 'revamping' their virtual assistant service with more features to better meet the needs and demands of their growing client base. While other companies are raising prices and cutting important features, Conversational is growing their service offering to match what their clients are asking for.
The company's current virtual assistant service is offered in three tiered monthly plans - the Startup, Entrepreneur, and Small Business plans. Ranging from 10 to 40 hours of virtual assistant availability each month, users select the plan that covers their business needs. Conversational's virtual assistants can begin working with new clients in as little as a few hours, according to the company's website.
The virtual assistant plans now include more features than before. Those features include:

Research – From Google searches to grab information to in-depth, peer-reviewed studies, a virtual assistant can do research.
Reservations – Booking a table at a restaurant for an after-work event or a coworker's promotion celebration? Virtual assistants can take care of it easily.
Travel planning – Travel often? How time consuming it can be to book hotels, rental cars, and flights. Delegate it to a virtual assistant.
Email replies – Conversational virtual assistants will issue scripted or quick replies to the emails business owners haven't gotten around to, freeing up time and ensuring important emails don't go unopened.
Answer customer questions – Virtual assistants can reply to customer comments on blogs, social media, and websites.
Managing blogs – Have a virtual assistant help manage blogs by scheduling and editing blog posts and moderating comments to ensure an even, consistent content flow and a polite, brand-consistent comment section.
Ordering out – Virtual assistants can place lunch orders, call in a cake for an office celebration, purchase flowers for a friend's birthday, and more.
Keeping up with reminders – Busy schedules are more easily managed with a virtual assistant to remind business owners of deadlines, due dates, and appointments coming up.
Answering calls – Let a virtual assistant handle outgoing calls to free up additional time to work on the highest priorities.
Make purchases or payments -- Have a virtual assistant handle some last-minute holiday shopping, send a bouquet of flowers to a coworker, or just make a payment.
Event planning – Virtual assistants can help with event planning tasks, like placing calls, ordering items, arranging transportation and bookings, and more.
This is not the first time virtual assistant provider Conversational has amended its virtual assistant service offerings to better meet client needs.
In June, the company made the decision to axe their two trial virtual assistant monthly plans (available in 10 hour per week and 20 hour per week increments) and begin offering 3 new virtual assistant monthly plan options. Those were the Startup, Entrepreneur, and Small Business plans offering 10, 20, and 40 virtual assistant hours per month, respectively.
With new, additional features beyond call answering and inbox management, Conversational's unique approach to offering virtual assistant services may become the standard by which other virtual assistant providers begin to offer their own services. New features like travel planning, reservations, and blog management are additional time savers that virtual assistant clients are sure to appreciate.
Conversational's virtual assistants possess one more important distinction from their virtual receptionists: When a client hires a virtual assistant, they will work with one, dedicated assistant throughout their time with Conversational (unless they make a request to switch to another assistant). This means the same virtual assistant will handle every task, call, and to-do item for the client, as opposed to a team of virtual receptionists.
Conversational is a virtual assistant service provider offering North American phone support for businesses of all sizes. The following virtual assistant plans are currently available: Startup (10 hours/month), Entrepreneur (20 hours/month), and Small Business (40 hours/month). Plan pricing and details are available on the company's website.
For more information about Conversational, please visit:
https://www.conversational.com
For Media Inquiries, please contact:
Conversational
(855) 933-3826