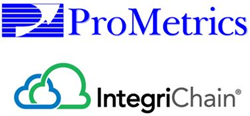 Philadelphia, PA (PRWEB) October 28, 2016
Philadelphia, PA, October 26, 2016 - ProMetrics, a leader in longitudinal patient-level data aggregation, today announced a strategic partnership with IntegriChain, a rapidly growing healthcare technology company focused on channel management for life sciences suppliers, to deliver the industry's first guided analytics solution for specialty channel management, patient service model design, and patient access optimization. These guided analytics are designed to provide specialty pharmaceutical manufacturers with actionable data-driven insights to improve the patient journey from the patient's first prescription throughout their course of therapy.
The new guided analytics offering for specialty pharmacy delivers a single view from factory to patient, dramatically improving the actionability of longitudinal Anonymized Patient-Level Data (APLD) for account managers, brand directors, and patient access leadership. The data model utilized in this offering maximizes KPI accuracy and granularity, providing manufacturers with clear and accurate indicators of channel performance. The offering builds on the strengths of both companies, providing rich analytics and visualizations for brand teams charged with setting commercial strategy, together with intuitive tools for field sales and reimbursement specialists to pull through specialty scripts with providers. The offering also includes a robust mobile KPI experience for specialty pharmacy account managers responsible for maximizing the effectiveness of the pharmacy network.
"Over the past decade, ProMetrics has spearheaded the industry's adoption of specialty pharmacy data aggregation and longitudinal de-identification," said Marc Duey, President and CEO of ProMetrics. "Now specialty brand teams and their partners in account management and the field team are looking to maximize the value of the data through analytics. Our joint offering with IntegriChain will deliver these teams the actionable insights they need to fully realize that value."
"This strategic partnership combines IntegriChain's pharmacy and distribution data aggregation and its guided analytics expertise with ProMetrics' specialty pharma domain expertise and best-in-class APLD insights to fill a significant gap for the specialty market," said Kevin Leininger, CEO of IntegriChain. "Most specialty manufacturers have product portfolios that are distributed through multiple channels. Patients access many of their individual products through diverse pharmacy settings and sites of care. Never before have specialty pharma manufacturers had a single analytics platform that encompasses all of their channels – specialty pharmacy, specialty distribution, full-line wholesale, and retail."
About ProMetrics
ProMetrics is a leading data aggregation company with two decades of dedicated service to the pharmaceutical industry and expertise in integration, analytics, and decision support. Our experienced team brings cutting edge applications and strong relationships with channel partners to deliver high quality data insights. Our core services include data acquisition strategy, contracting recommendation, and execution as well as collection and integration of data across Specialty Pharmacies, Specialty Distributors, 3PLs, Hubs, GPOs, and more. Using our technology platforms and proprietary applications we provide de-identified patient journey reports allowing manufactures to improve patient services and outcomes by monitoring more than a hundred performance metrics including as time-to-therapy, medication possession ratio, and persistence.
ProMetrics plays an intricate role in helping pharmaceutical manufacturers execute their strategies and make informed, insightful decisions. More than 140 pharmaceutical companies have trusted us with thousands of projects. ProMetrics, Inc., is an independent, privately-owned company with operations in King of Prussia, PA, and Wilmington, NC.
For more information, visit http://www.prometrics.com and follow us on and LinkedIn.
About IntegriChain
IntegriChain is a rapidly growing healthcare technology company, offering the leading cloud for channel data aggregation, analytics, and applications for life sciences suppliers to improve patient access. Pharmaceutical, biopharm/specialty pharma, generics, and medtech suppliers leverage insights from IntegriChain's unmatched visibility to product distribution and demand to optimize product commercialization and to address critical risks throughout the patient journey and product life cycle. IntegriChain delivers the data and analytics foundation for more efficient and service-oriented channel models for mature product categories as well as for innovative products that must balance significant therapeutic benefit with out-of-pocket costs and benefit hurdles. Today IntegriChain is the trusted partner for 13 of the top-15 life science companies and more than 50 other suppliers, totaling $200 billion in annual US commerce. IntegriChain is backed by Accel-KKR, a leading Silicon Valley technology private equity firm.
For more information, visit http://www.integrichain.com and our blog and follow us on Twitter @IntegriChain and LinkedIn.
IntegriChain is a registered trademark of IntegriChain Incorporated. All other trademarks are property of their respective owners.