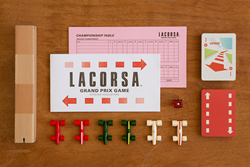 "It's tactical, it's a skirmish almost. You are muscling for position. Each car. Each time. Each play. Head to head."
Aliso Viejo (PRWEB) November 02, 2016
Strategy at Speed
This new game asks the question "are racing games too slow?" LACORSA is a quick paced game based on the battle for position in Grand Prix racing. Beautifully thematic, LACORSA is a highly accessible pure strategy game for the entire family. This Grand Prix Game is now crowdfunding on Kickstarter.
Race your friends in style
LACORSA captures the beauty of speed in a timeless way. Race your friends in this retro-styled strategy game that offers a high degree of flexibility and fun, using "pawns" inspired by '60s Grand Prix cars and custom cards that look like they're cut from a Monaco Grand Prix poster. The classic look is completed by a wooden game board featuring red and white beechwood inlays.
LACORSA is geared for both poker night with the guys and family game night with the kids, using simple rules, solid strategy, and an unprecedented flexibility for "house rules." The game easily scales from simple single-hand play to deeper strategy with multiple hands as a race team. Play it safe, or drive dangerously, risking disastrous wrecks with every lap.
The art and culture that surrounds Grand Prix racing is the inspiration for this game. In Italian, "la corsa" simply means "the race."
Gameplay
LACORSA is a board game that meshes various game mechanics together with outstanding components. The cards control the movement of the race cars on the game board as they battle for position. The strategy can be complex but the game is simple. In LACORSA, each deal of the cards is a race. Championship points are awarded based on the finishing order after each contest. The driver with the most points is crowned World Champion.
In a review on Petrolicious, Michael Banovsky summed up the design nicely. "This Grand Prix board game lets you race your friends in style. Besides an interesting style of gameplay, LACORSA looks beautiful with shapely game pieces and crisp card design." LACORSA is best with 3 players but supports 2-6. Play as teams or as individuals.
The LACORSA game is scheduled to be on Kickstarter from November 1 to December 1, 2016. Linea Rossa Games is hoping to raise 14k for the initial production order needed to produce a game with these components and quality. Pricing is set at a $50 retail price point.
Press assets: Video, Photos and Logos
About Linea Rossa Games LLC
Linea Rossa Games LLC was founded to produce the game LACORSA which was created as a passion project from designer Mark Haskins. He has designed the art, components and the game itself out of a love for games, grand prix racing and wood toys. His background is in footwear design where he is currently the VP of Footwear Design at Vans in Southern California. Mark holds a degree in Transportation Design from the ArtCenter College of Design in Pasadena. LACORSA has been a creative outlet for the last 3 years and draws on the skills he acquired at ArtCenter studying automotive design.