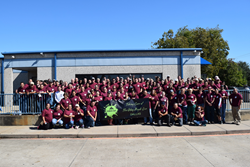 Dallas, TX (PRWEB) October 28, 2016
Gables Residential has been giving back to its communities in many ways around the country. One of the most significant ways has taken place over the past 16 years by dedicating a day where all associates come together in their respective regions to focus on giving back to a worthy cause. Gables Day encompasses a full day in each region throughout the fall where approximately 1,000 associates come together to volunteer their time and share in the experience of this special day. Since 2000, Gables Day has resulted in contributions of over $1.2 million in goods and services and approximately 125,000 hours of labor and dedication by Gables associates.
In Dallas, Gables Day recently took place with People Helping People (PHP). Since 1985, the PHP has been assisting 62+ years of age or disabled homeowners with minor exterior home repairs, including replacing rotted wood, scraping and painting, rebuilding/replacing steps, handrails, porches, demolishing small structures and removing open storage from yards.
"Many thanks for partnering with the PHP! Our program would not be successful were it not for the generosity of awesome volunteers such as Gables Residential! Along with our clients Ms. Alice West, Ms. Nawanna Stevenson, Ms. Mary Scott, Ms. Arecia Garner, Ms. Lue Horn, I sincerely appreciate the repairs and painting of their homes. A special shout out to all the teams that go above and beyond to build steps and handrails, repair decks, install safety lights and beautiful curb appeal; just to mention a few of the extras! You always bring an abundance of talented staff and a willingness to make a difference that leaves our home owners overwhelmed with gratitude. We could not have completed these projects without your diligence and effort! Again, thank you for all you do for our clients," commented Carla J. Woolridge, Project Coordinator for the PHP.
Donna Summers, Senior Vice President of Operations for Gables shared, "I have attended many Gables Day's over the 11 years I've been with our company, but I am still in awe and so proud of our Gables family each time. This Dallas Gables Day was no exception. The team was well prepared and hit the ground running in spite of the weather. The rain did not slow anyone down or dampen the spirits of the Dallas team as they began the tasks at hand. I was again honored to be a part of this amazing experience!"
About Gables Residential
Gables Residential is an award-winning, vertically integrated, real estate company and privately held REIT specializing in the development, construction, ownership, acquisition, financing and management of multifamily and mixed-use communities. Gables Residential owns, develops and manages communities in high-growth U.S. markets such as Atlanta, Austin, Boston, Dallas, Denver, Houston, South Florida, Southern California and metropolitan Washington, D.C. Gables also provides third party management services in the New York, Baltimore, Frederick, Tampa, Phoenix, Seattle, Charlotte, Central and North Florida markets.
Gables manages over 31,000 apartment homes and approximately 550,000 square feet of retail space and has received national recognition for excellence in development, construction, management, sales, marketing, learning and development, benefits and corporate accommodations. These achievements reflect the impact of our experienced and dedicated team members, our superior knowledge of the markets served, and our expertise in development and management.