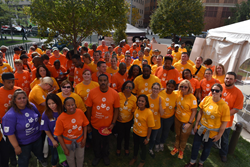 Washington DC, DC (PRWEB) November 01, 2016
Gables Residential has been giving back to its communities in many ways around the country. One of the most significant ways has taken place over the past 16 years by dedicating a day where all associates come together in their respective regions to focus on giving back to a worthy cause. Gables Day encompasses a full day in each region throughout the fall where approximately 1,000 associates come together to volunteer their time and share in the experience of this special day. Since 2000, Gables Day has resulted in contributions of over $1.2 million in goods and services and approximately 125,000 hours of labor and dedication by Gables associates.
In Washington DC, Gables Day recently took place with Project Homeless Connect of United Way NCA. Over 130 Gables associates spent the day working with the United Way to help facilitate the services they are providing to the homeless to improve their personal well-being. Project Homeless Connect works to help all members of the local community to have a better life. The focus includes the basic building blocks of a good life — a quality education, financial stability for individuals and families, and good health.
According to Dave Skinner, Regional Vice President of Construction, "There's nothing more inspiring than having the ability to make a difference in a person's life. This year's DC Metro Gables Day teaming up with United Way NCA for Project Homeless Connect in the District of Columbia created just that opportunity. The before and after was not a picture, but rather a feeling that supports Gables' mission of 'taking care of the way people live'. I was proud to have the opportunity to drive this year's event, and proud of the participation by all Gables Associates knowing that most walked away with the same feelings of pride and purpose I had after such a powerful day."
About Gables Residential
Gables Residential is an award-winning, vertically integrated, real estate company and privately held REIT specializing in the development, construction, ownership, acquisition, financing and management of multifamily and mixed-use communities. Gables Residential owns, develops and manages communities in high-growth U.S. markets such as Atlanta, Austin, Boston, Dallas, Denver, Houston, South Florida, Southern California and metropolitan Washington, D.C. Gables also provides third party management services in the New York, Baltimore, Frederick, Tampa, Phoenix, Seattle, Charlotte, Central and North Florida markets.
Gables manages over 31,000 apartment homes and approximately 550,000 square feet of retail space and has received national recognition for excellence in development, construction, management, sales, marketing, learning and development, benefits and corporate accommodations. These achievements reflect the impact of our experienced and dedicated team members, our superior knowledge of the markets served, and our expertise in development and management.