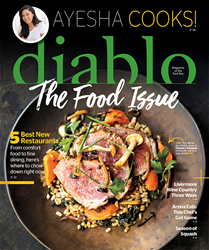 Gourmet East Bay is a fantastic way to experience many of the best local bites all in one place.
Walnut Creek, CA (PRWEB) October 27, 2016
Diablo Publications announces the winners of its 2016 Food Awards in the November issue of Diablo magazine. From the dozens of East Bay restaurants that have opened since last year's Food Awards, Nick Boer, Diablo's senior food writer, selected five that are truly Best in Class:

Quintessential Farm-to-Table: Farmer's Almanac; Danville CA
First-rate Fusion: Gan; Pleasanton, CA
So Sophisticated: Limewood Restaurant and Bar; Berkeley, CA
Super Casual: Sideboard Neighborhood Kitchen and Coffee Bar; Lafayette, CA
Fun Dining: Rooftop Restaurant and Bar; Walnut Creek, CA
"Taken separately, they show how dynamic today's dining scene is," Boer says. "As a group it's clear the standard of quality is higher than ever."
Coinciding with the annual Food Issue, Diablo magazine and Broadway Plaza are hosting Gourmet East Bay sponsored by BiRite Food Services Group. This celebration of the East Bay food scene features more than 20 local restaurants, wineries, spirits makers and distilleries. Proceeds from the evening's raffle benefit the Food Bank of Contra Costa and Solano County. "Gourmet East Bay is a fantastic way to experience many of the best local bites all in one place," says Diablo editor-in-chief, Susan Safipour. "And it's super fun!" More than 500 people are expected to attend the Gourmet East Bay celebration on Saturday, November 5, at the recently renovated Broadway Plaza.
About Diablo Publications
For 35 years, Diablo Publications has been creating award-winning publications, including Diablo magazine, Napa Sonoma magazine, Diablo Weddings, Diablo Arts, and the Tri-Valley California Visitors Guide. Covering travel, theater, lifestyle, and home design, Diablo Publications celebrates the people, places, and pleasures of the East Bay and North Bay. Diablo Publications' custom content division, Diablo Custom Publishing (DCP), provides complete print and online marketing communications and customer publishing services for corporate clients nationwide. For more information, visit diablopublications.com. Diablo Publications is an employee-owned company.