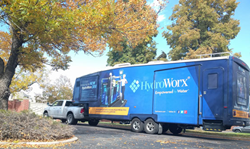 Our goal is to innovate groundbreaking products like the new 300 Series to help our customers provide world class rehab and wellness services.
Middletown, PA (PRWEB) October 27, 2016
"Be the Difference." It's the slogan for the LeadingAge Annual Meeting and EXPO held this year from October 30-November 2, 2016, at the Indiana Convention Center, Indianapolis. Thousands of attendees at this event will have the opportunity to connect, share and discover. HydroWorx, the leading manufacturer of world-class aquatic therapy pools and peripheral equipment, is proud to be part of the "difference" for LeadingAge members and the populations they serve.
From Booth #4120 at the Exhibit Hall, HydroWorx will offer visitors the opportunity to see and try the next generation of therapy modalities, the stand-alone, construction-free HydroWorx 300, in the company's Mobile Showroom. This revolutionary equipment is ideal for existing facilities and provides high-tech aquatic therapy without the need for a pool. It's being heralded as a game-changer by enabling facilities with limited space and no construction capability to expand their offerings.
"Aquatic therapy can help transform a senior living facility's short term rehab and wellness programs," says Anson Flake CEO and Co-founder, HydroWorx. "Our goal is to innovate groundbreaking products like the new 300 Series to help our customers provide world class rehab and wellness services."
Among the HydroWorx activities at Booth #4120 include:

The opportunity for attendees to try out the HydroWorx 300 in the Mobile Showroom. Interested participants should contact us at nbiesecker(at)hydroworx(dot)com by Sunday, October 30 to ensure a spot.
The chance to receive a show discount of $10,000 off any HydroWorx 300 purchase if the purchase is made within 60 days of the LeadingAge Annual Meeting and EXPO.
T-Shirt giveaways, while supplies last.
In addition, HydroWorx will have a live feed in their booth of what's happening in the Mobile Showroom as demonstrations take place.
LeadingAge EXPO hours are Monday, October 31, from 12:30-3:30 p.m.; Tuesday, November 1, from 12:30-3:30 p.m.; and Wednesday, November 2, from 9:45 a.m.-noon.
About HydroWorx
Since the late 1990s, HydroWorx has manufactured aquatic therapy pools with integrated underwater treadmills to enable rehabilitation professionals to more effectively offer their patients the opportunity to increase range of motion, decrease risk of falls and joint stress, and remain motivated through the rehab process.
Products such as the HydroWorx 2000 and 500 Series therapy pools, along with the new HydroWorx 300 system have revolutionized the face of aquatic therapy; in fact, HydroWorx technology is used by world-class facilities such as OrthoCarolina, Cleveland Clinic, Kennedy Krieger Institute, Genesis Healthcare, Neuroworx, Clear Choice Healthcare, PruittHealth, Premier Rehab, Leg Up Farm and many other healthcare facilities across the country.
HydroWorx offers a wide range of underwater treadmill pools and peripheral products and services. Every day, more than 29,000 athletes and patients use HydroWorx technology to recover from injuries and health conditions.
More information about HydroWorx can be found at http://www.HydroWorx.com.