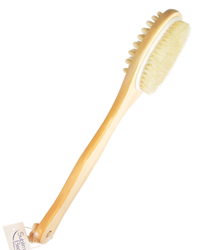 Sublime Beauty provides tips for Skin Brushing, and quality brushes.
St. Petersburg, FL (PRWEB) November 01, 2016
Dry Skin Brushing is one of the easiest things to add to your daily regime (just 10 minutes daily) for maximum benefits!
Body Brushing (also known as Skin Brushing) exfoliates dead cells and toxins from the largest body organ (1/3rd of toxins are excreted each day). Body Brushing also moves and supports the lymphatic system (to help your immune system) - the lymphatic system doesn't have a pump.
The technique also improves blood circulation, skin tone and helps to reduce cellulite.
Skin Brushes should always have natural bristles. Sublime Beauty designed the perfect Skin Brush, available on Amazon here. It has a long handle to reach the back; it is sturdy with natural bristles; the dual head has a side for CELLULITE MASSAGE.
FIVE SKIN BRUSHING TIPS FROM SUBLIME BEAUTY
1) Always brush in the direction of the heart on perfectly dry skin! Work with your circulatory and lymphatic systems (not against them.)
2) Find a time that works best in a daily routine. Most find the morning BEFORE the shower to be best. Stand in the shower and Skin Brush so dead cells, flakes and toxins can be rinsed away easily.
3) Start at the feet and work up the body, avoiding any open sores and not the upper neck or face (bristles are too harsh for that delicate area. Face Brushes are available from Sublime Beauty.)
4) Brush strongly enough to make an impact but not so hard that it would hurt. Start easy and work into it.
5) Don't share Skin Brushes with others.
Skin Brushes are available at Sublime Beauty's store with free shipping, and on Amazon. HOW TO brochures are provided.
More information on Skin Brushing available on the content site here.