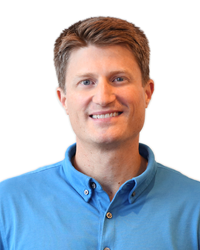 I came here to help build something great, and I'm excited about the future of US Cargo Control.
URBANA, IA (PRWEB) October 31, 2016
Clickstop has named a new president of US Cargo Control, part of an evolving leadership structure to propel the continued growth and success of its flagship brand.
Todd Kuennen, who's served as chief financial officer since joining Clickstop in 2009, will now lead the strategic planning and innovation of US Cargo Control, which specializes in cargo control, lifting slings, rigging equipment and moving supplies. US Cargo Control is among several brands Clickstop owns and operates in Urbana, Iowa.
"My interests have always extended beyond finance," Kuennen said. "I came here to help build something great, and I'm excited about the future of US Cargo Control."
Clickstop's chief executive officer and owner Tim Guenther announced the promotion during an all-employee meeting earlier this month, noting the move has been explored for nearly five years. The company's immediate need due to rapid growth, along with its focus on employee talents and strengths, helped guide the transition.
"This is still an entrepreneurial environment," Guenther said. "We're going to change, we're going to take risks, and we're going to dive into new things. Todd saw a need and communicated a solution that included him in this role, and now is absolutely the right time."
"In my opinion, there's not another person here who does a better job than Todd at supporting and holding the team accountable, and he anchors that on clear expectations," he continued. "His experience, knowledge and abilities are well-aligned with what is needed today and where we are going."
Kuennen's passion for the brand, opportunistic thinking, sound financial decisions and natural drive to identify the root of challenges have earned him trust and respect throughout the company, Guenther added.
Guenther, who previously assumed president duties, said the new model frees him to focus on long-term sustainability, as well as further promoting the great workplace culture and employee engagement that have contributed to Clickstop's numerous work environment-focused awards.
"We've grown – we have more people, more customers and different needs into the future than we had in the past," Guenther said. "This structure enables us to have a great president of US Cargo Control and a great CEO of Clickstop."
Guenther founded US Cargo Control in 2005. Over the last decade, the brand has boomed, accounting for more than 90% of the company's revenue. A major building expansion nearing completion at Clickstop's Blue Creek Drive headquarters will add over 53,000 square feet of manufacturing and office space, a commercial kitchen, entertainment areas and a health and fitness center.
Before coming to Clickstop, Kuennen served as vice president of commercial banking at both Bankers Trust in Cedar Rapids and Clear Lake Bank & Trust Co. in Clear Lake. He's also held various positions with U.S. Bank and GreatAmerica Leasing Corp., now GreatAmerica Financial Services Corp., in Cedar Rapids. A Cedar Rapids native, Kuennen, 42, graduated from Linn-Mar High School in Marion.
The company will soon launch a search to fill the chief financial officer vacancy.
###
About Clickstop, Inc.
Clickstop is multi-brand merchant based in Urbana, Iowa. Its focus on great workplace culture has landed the company multiple work environment-focused awards including two first-place achievements as the Coolest Place to Work, along with being named one of Iowa's Top Workplaces by The Des Moines Register for four consecutive years. Clickstop serves diverse markets that include the moving and cargo control industry, energy-efficient insulation products, fasteners and home organizing solutions. For more information, visit Clickstop.com.
About US Cargo Control
US Cargo Control is a leader in the cargo control industry, specializing in cargo control, lifting slings, rigging equipment and moving supplies. With growing product offerings and a focus on innovation, the company is committed to offering quality products, timely delivery, and an excellent customer experience. Expanding manufacturing capabilities and custom options further ensure customers get what they want, when they need it.