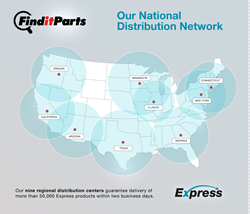 Los Angeles, Calif. (PRWEB) November 01, 2016
FinditParts, the No. 1 supplier of heavy duty truck and trailer parts online, today announced it has launched FinditParts Express, an expedited shipping program to guarantee second-day delivery on select items based on recent enhancements to its distribution system.
Starting today, more than 50,000 of the fastest-moving, most popular items in FinditParts' online catalog of more than 6 million parts will be eligible for guaranteed delivery within two business days to most U.S. shipping zones. The new Express program highlights the company's commitment to improving its distribution system, most notably the addition of nine regional shipping warehouses throughout the continental United States.
"We listened to our customers and the one thing they said they wanted most was faster delivery times," said David Seewack, founder and CEO of FinditParts. "Now, in addition to being the largest single provider of heavy duty truck parts online, we're also the fastest."
Products on the FinditParts website bearing the Express badge are automatically eligible for 2-day delivery. Some qualify for free shipping and same-day shipping, depending upon on the recipient's proximity to FinditParts' regional distribution centers.
Key highlights of today's announcement include:

FinditParts has launched Express to guarantee second-day delivery on thousands of its most popular, fastest-moving products
Many Express products will qualify for free shipping and same-day shipping
Express is the result of FinditParts' enhanced inventory and distribution system, making it the largest and fastest provider of heavy duty truck and trailer parts online
FinditParts has updated its website to make searching for heavy duty truck and trailer parts even faster and more mobile-friendly
In addition to the hard-to-find parts for which it originally became known, FinditParts offers every type of preventative maintenance and regular stocking items. The company also offers customized contract pricing for the parts its fleet customers purchase most frequently.
About FinditParts
Founded in 2010 and based in Los Angeles, California, FinditParts is the No. 1 supplier of heavy duty truck and trailer parts online. With more than 6 million regular stocking items and hard-to-find parts cataloged on its easy-to-use website, FinditParts is the largest single-source supplier of OEM and aftermarket parts for every major brand. In addition to transparent pricing and same-day shipping on popular items available in its regional distribution centers, FinditParts offers a no-hassle return policy and the industry's most outstanding customer service from a knowledgeable support team servicing fleet buyers, owner/operators, service facilities and mechanics. To find out more, visit http://www.finditparts.com or call 888-312-8812.