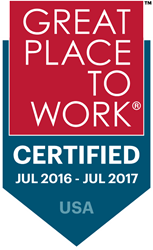 "It is a reflection of what every individual in the company does every day to take a collective ownership in our culture and each other's success." - David Alexander, Soliant Health President
(PRWEB) October 31, 2016
Soliant Health, a leading specialty healthcare staffing provider and part of Adecco Group, has been certified as a Great Place to Work® for 2016-2017.
Great Place to Work® is the global authority on high-performance workplace cultures. Its proprietary research survey is used by over 10 million employees in 50 countries annually. The survey highlighted Soliant's compensation programs such as its 401(k) matching program, pre-tax savings account, and long-term care insurance for employees. It also highlighted Soliant's company perks such as family care programs, on-site benefits, community involvement, diversity, and work-life balance.
Soliant's Great Place to Work® official employee ratings are as follows: 97 percent for having a great atmosphere, 92 percent for offering great rewards, 98 percent for showing great pride, 95 percent for encouraging great communication, and 95 percent for appointing great bosses. Overall, Soliant earned a well above-average 91 percent approval rating from its employees. The Great Place to Work® rating system is based on more than 25 years of global research and is accurate to a 95 percent confidence level.
"I'm proud of our certification as a leading Great Place to Work," says David Alexander, president of Soliant Health. "It is a reflection of what every individual in the company does every day to take a collective ownership in our culture and each other's success."
Using its Trust Index Employee Survey, Great Place to Work® analyzes company performance and employee satisfaction to write reviews that offer a true picture of the workplace and elevate the hiring experience. Every year, Great Place to Work® awards companies that make a commitment to creating great workplaces with its prestigious Great Place to Work® certification.
Read Soliant's complete Great Place to Work® Review at http://reviews.greatplacetowork.com/soliant-health.
About Soliant Health
Soliant Health, an Adecco Group company, is a leading provider of specialized healthcare staffing services to hospitals and healthcare providers. By supplying traveling healthcare professionals on both temporary and direct hire assignments, Soliant Health delivers comprehensive healthcare staffing services to leading facilities across the United States. Soliant's teams of professionals are qualified to fill physician, nursing, therapy, pharmacy, clinical research, imaging, and other healthcare positions.