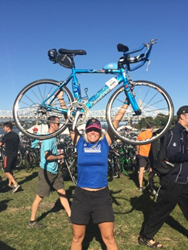 Panama City Beach, FL (PRWEB) October 28, 2016
Fifty-year-old Florida triathlete Susan Haag has completed 99 full distance (140.6 miles) triathlons, and on November 5 in Panama City, FL, will attempt to be the first woman to complete 100 triathlons. IRONMAN Florida is a single-day endurance event comprised of a 2.4-mile swim, followed by a 112-mile bike ride, and then a 26.2-mile marathon run through Panama City Beach and its surrounding areas. This will be Haag's 100th full distance triathlon and 375th triathlon (of varying distances). Previous competitions include the IRONMAN World Championship, IRONMAN Cozumel, and IRONMAN Boulder.
Originally from Louisville, KY, Haag is a practicing lawyer and currently resides in Jacksonville, FL. Haag first began competing in triathlons in 1990 and picked up IRONMAN in 2002. She also sits on the Board of Directors for USA Triathlon and is active on the International Triathlon Union's Women's Committee.
Haag is competing in IRONMAN Florida as a member of the Children's Tumor Foundation NF Endurance team, a national fundraising program of the Children's Tumor Foundation that supports NF research, raises awareness, and provides opportunities for athletes to race in honor of an NF Hero. NF Heroes are people who live with NF, or neurofibromatosis, which is a genetic disorder that causes tumors to grow on nerves throughout the body and affects 1 in every 3,000 people. Currently there is no cure or effective treatment for NF.
"Racing IRONMAN is about the journey, energy and empowerment that I experience over a challenging 140.6 miles," said Susan Haag. "When I was offered the opportunity to race on behalf of the Children's Tumor Foundation and an NF Hero named Clara, my heart nearly exploded with pride, purpose & love. Getting to know Clara through her letters and photos has been a joy, and I am honored to race in her name."
Eight year old Clara was diagnosed with neurofibromatosis as a toddler, and her family has been actively involved with the Children's Tumor Foundation NF Endurance team and NF Hero program ever since. This program partners athletes with affected families to make a bigger impact on training and racing. Despite being monitored due to the plexiform tumor on her back that continues to grow, Clara thrives.
"Clara isn't just a 'hero' to these athletes – these athletes are heroes to us, too," said Katherine, Clara's mother. "And the best part is that we aren't just connected for the event, we gain friends for life!"
In the last three years, through CTF's partnership with IRONMAN, more than $1.7 million dollars has been raised for NF research. For more information about the Children's Tumor Foundation and the NF Endurance team, visit http://www.ctf.org.