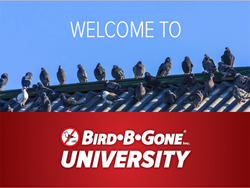 We drove to California from Utah, because we know this is the best Bird Control Training Class in the nation.
Irvine, CA (PRWEB) November 10, 2016
Committed to sharing its decades of experience and knowledge, the leader in professional grade bird control products for commercial, industrial and residential applications has expanded its renowned Bird B Gone University training to the four corners of the globe.
Designed for installers and property owners, Bird B Gone University teaches attendees the most efficient and cost effective way to humanely get rid of pest birds. Taught by Bird-B-Gone specialists who have more than 90 years of combined hands-on experience, the classes reveal how to solve the most difficult bird control problems in commercial, industrial and residential venues worldwide.
Attendees learn how to "follow the birds," the best time of day to evaluate bird problems, and about Bird Pressure, which defines the level of commitment birds have to various locations where they nest, roost, eat and spend time. Instructors cover bird behavior, their attachment to a site, the most effective way to get rid of birds and how to prevent them from returning.
Bird-B-Gone's bird control engineers continue to stay abreast of the latest advancements in the industry. Attendees learn about today's most advanced bird control products—everything from lasers and sonic deterrents to non-lethal chemical repellents. Bird B Gone's many innovations in bird control have led to newer and better ways to effectively—and humanely—deal with pest birds. As the industry leader for over 22 years, the company has issued 42 patents worldwide and 35 pending patent applications—the most in the industry. Its broad range of products addresses every bird problem.
Attendees of Bird-B-Gone University's free bird-control training course receive a training manual, catalog and product samples. The classes not only address the type of bird but where they land and what they do. Those interested in signing up for Bird-B-Gone University should email aroniss(at)birdbgone(dot)com or call 1-800-392-6915. Group trainings are also available.
Bird B Gone is the world's largest manufacturer and distributor of bird control products, providing effective and humane solutions to a bird-free environment. The company provides advice; training and installation services for those who need help with these and other bird control measures. For the complete line of products from Bird B Gone, call 1-800-392-6915; fax: 949-472-3116 or visit our website at http://www.birdbgone.com, e-mail: nobirds(at)birdbgone(dot)com.