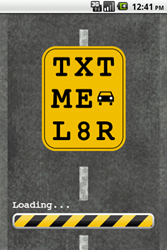 "Using TXT ME L8R could save your life and someone else's too. Download it now" - Frank Shankwitz, a 40 year retired Arizona Highway Patrol Officer and Founder / Creator of Make-A-Wish Foundation
Orange, California (PRWEB) November 01, 2016
Teenagers think they are invincible, that bad things can't possibly happen to them. Like texting & driving — what's the big deal? Distracted Driving has become a dangerous epidemic on America's roadways!
The holidays are coming up, so don't let there be an empty chair at the diner table. A chair that will never graduate, will never get married, will never have grandchildren, and will leave no legacy.
TXT ME L8R, saves lives by preventing Adults and Teenagers from using their phones while they drive. In 2013, it was reported by USA Today that more adults are texting than teenagers. Richard Barrier, creator of the Android phone app TXT ME L8R, has developed a solution to this ever growing problem. TXT ME L8R is simple to use, customizable & easy to set up on your teenager's phone. It simply removes the temptation to check for texts, Facebook statuses, tweets, etc… by locking the phone from presenting them to you until your car is no longer moving. The app automatically responds for you by sending a message to the sender saying "TXT ME L8R – I'm Driving." In the event that the phone goes over the maximum speed limit an email is sent to the parent with the speed, time & location of the phone.
Frank Shankwitz, a 40 year retired Arizona Highway Patrol Officer and Founder / Creator of Make-A-Wish Foundation has just endorsed TXT ME L8R, saying, "Using TXT ME L8R could save your life and someone else's too. Download it now." Since Distracted Driving is a global problem, TXT ME L8R will work with international phone numbers. The adult model of TXT ME L8R is now free and the Teenager model is only $0.99 cents for a one-time download. Some people will be saying, "I have an iPhone." That's OK — tell your Android friends because you never know whose life you will save by spreading the word.
Families, friends, acquaintances, neighbors and virtual strangers are all affected when an accident or death occurs due to Distracted Driving. The empty chair at the dinner table, the graduation that will never happen, the wedding, or legacy and the dreams that will never be fulfilled… all because of technology and its temptations. TXT ME L8R is a solution to a very sad, dangerous problem.
For more information visit http://www.TXTMEL8R.com or to schedule an interview with Richard call 1-88-TXTMEL8R or Richard(at)TXTMEL8R(dot)com. Richard is currently working on a book about Ditracted Driving titled "Distracted Driving: Two Seconds That Could Change Your Life Forever."