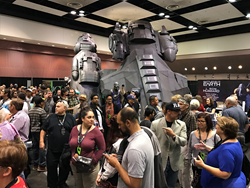 Santa Clara, CA (PRWEB) October 29, 2016
Alien security chief Terl, from Battlefield Earth by L. Ron Hubbard (Galaxy Press), was in such a hurry to attend the inaugural Alien Con, that he crashed in the middle of the Santa Clara Convention Center to ensure he didn't miss out on all the excitement. His spaceship, standing a full 25 feet tall even in its crashed position, was an impressive site in the middle of the convention center.
Upon his arrival, the Galaxy Press booth rapidly packed out with fans wanting their photos taken with Terl. And as a result, demand for his book Battlefield Earth has been great.
Alien Con promised that it will go where no convention has gone before. And they have indeed done just that! They said the truth IS out there and it could be found over Halloween weekend at the Santa Clara Convention Center as the very first convention devoted to fans of HISTORY'S Ancient Aliens, sci-fi buffs and pop culture enthusiasts alike.
Battlefield Earth was written by L. Ron Hubbard in celebration of 50 years as a professional writer. It rose to the top of national bestseller lists, 8 times on the NYT, and went on to recognition in 2000 as #3 of the top 100 favorite fiction novels of the 20th century in the Modern Library Reader's Poll. It was re-released earlier this summer as both a trade paperback and unabridged multi-cast audiobook (47 hours with 67 actors performing 198 roles). And with its extreme popularity as one of the all time favorite science fiction novels, it hit the #1 spot in America in three separate categories as announced by Publishers Weekly: science fiction, paperback and audiobook.
For more information on Battlefield Earth go to http://www.BattlefieldEarth.com.