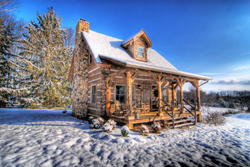 "What our guest houses sacrifice in space is made up for in quality of materials," says Randy Giles, owner of Hearthstone, Inc. "Their efficient design enables a lot of living in a small package."
Newport, TN (PRWEB) November 14, 2016
Hearthstone, Inc. officials announced today that the company is continuing to expand its operations in Newport, TN. The custom log and timber home manufacturer plans to invest in a second 5-axis robotics work center and hopes that this additional machine will help relieve some of the time it takes to deliver their custom luxury homes worldwide. It should be installed and operating by the end of the year.
Through this investment, Hearthstone was able to install a second Essetre 5-Axis-Multi-Head Robot that would not have fit at their previous Dandridge location. This unique CNC work center is capable of reading floor plans and 3-dimensional computer aided design models, and can cut all the parts and pieces for a house. With the aid of 11 exchangeable tools, they are able to turn out state-of-the-art components for both log homes and timber frame homes.
With an increased demand for second homes, Hearthstone has been developing a new collection of unique and completely personalized guest cabins. The collection starts with five models with additional designs by the end of the year. "We are known for building large log and timber homes, as well as complex commercial projects for big construction companies like the Ritz-Carlton and the Cal Ripken Experience," said Steve Hall, vice president of Hearthstone. "But many also look to Hearthstone when creating their smaller guest house. These are generally less complicated and go up quick. There is something special about a tiny cabin. They might be small in scale, but these customers live large and really personalize these homes. They truly have fun."
Ranging in size from 800 square feet to 1,540 square feet, these tiny cabins are perfect for a guest home, vacation home, or small primary residence. The one and a half story configuration captures the log home lifestyle with cathedral living spaces, sleeping lofts, fireplaces, dormers, and covered porches. They're cozy when the whole family is in town, perfect for comfort, fun for family get-togethers, and all within a reasonable budget. "What our guest houses sacrifice in space is made up for in quality of materials," says Randy Giles, owner of Hearthstone, Inc. "Their efficient design enables a lot of living in a small package."
The inspiration for the collection is credited to Hearthstone's customers' shared stories and feedback, one particular couple being John and Mary Merlie*. After careers as a physician and teacher, respectively, in Florida, John and Mary retired to a beautiful 21-acre farm with spectacular mountain views in East Tennessee. It wasn't until after the remodeled the property's existing home that they realized they needed more space because they didn't have enough bathrooms for their kids and grandkids—a total of thirteen people—when they came for their annual family reunion each summer.
In John Merlie's opinion, "There are only a few things a person needs out of life to be happy: friends, family, and enough space to spend time with them!" They wanted a cozy and inviting space for their guests and decided a small log cabin would be the perfect fit. John says that when it came to the design of the cabin, he and his wife knew immediately what they wanted.
After extensive research, John and Mary looked to Hearthstone to create their charming guest house. They wanted to build an old-fashioned Appalachian log cabin and were determined to make it look as if it had been sitting there for a couple hundred years. After traveling to Dandridge, TN to visit Hearthstone, they fell in love with the natural and unusual look of the Timberlake Log Home Style. "Because we vocalized the kind of house we were looking to build, the folks at Hearthstone were able to lead us in the right direction, without us having to do a bunch of unnecessary work," said John. They settled on a Lake Haven classic design that, when everyone came to visit at the same time, had the kids in sleeping bags in the loft and their parents sleeping in a first floor bedroom and the great room. The Weather-Aged® series logs also had the perfect seasoned look that they loved.
Although there was plenty of space on the Merlies' 21-acre property, they wanted their guest home to be within easy walking distance of the main house. They laid the foundation of the cabin roughly 200 feet away from their front door and positioned it so that visitors would be able to take advantage of the beautiful view of the seemingly endless Unaka Mountains and the Cherokee National Forest. For this reason, they named the guest house "The Cataloochee Cabin" ("cataloochee means "wave after wave" in Cherokee).
"We hope that The Cataloochee Cabin will stay in our family for generations so our grandkids, who love to play on the porch and hike in the woods during their visits will live to see their grandkids enjoying the same. After all, everyone loves a log cabin. It is, indeed, something special," said John. "The folks at Hearthstone were great and worked with us through quite a few revisions of the plan until we got it just right – and we did!"
With their new equipment, Hearthstone has the capability to continue introducing new products. Many customers take weeks or months to design their home, but these Hearthstone homes are pre-designed and ready to go. This saves time and gets customers in their dream space quicker, and they share stories and feedback that continue to spark new ideas, just as the Merlies did.
About Hearthstone, Inc.
Hearthstone, Inc. specializes in building and manufacturing log and timber frame homes. The company has been manufacturing homes for over 40 years and has been a pioneer in CAD/CAM timber cutting production in the United States since 1997. Since 1998, Hearthstone also offers a structural guarantee that is unmatched in the industry. For more information about Hearthstone, please click here for an informational video. To schedule a home tour, and for free literature, simply call 800-247-4442 and ask to speak to a professional project manager.

Names were changed to protect privacy.