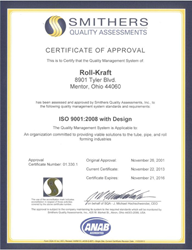 Mentor, OH (PRWEB) November 02, 2016
Roll-Kraft, a leading provider of tube and pipe and roll forming tooling, is pleased to announce that a re-certification surveillance audit was recently conducted at its Mentor, Ohio, headquarters and was successfully completed without any major or minor non-conformances. The three-day audit was led by Gretchen Lazar, executive management representative for the company.
ISO surveillance audits consist of reviewing all the procedures and processes of the company. Areas covered are:

Management Review
Changes to the Quality System
Internal Quality Audit Review
Corrective Action Review
Selective Process Audit
Teams of internal auditors analyze individual procedures and work instructions throughout the year to assure consistent compliance with the quality program.
Roll-Kraft was originally certified by ISO in 1997. The company earned the "ISO 9001:2000 With Design" certification in 2011, and has continued that designation through the current audit.
Companies around the world recognize the ISO certification as an indication of corporate dedication to quality and standards that are set in place to provide a reliable product to every customer. These standards contribute greatly to the company's goals of 100% on-time delivery and first-time performance at the customer's location.
Roll-Kraft has its headquarters in Mentor, Ohio, and maintains other facilities in Lombard, Illinois (Chicago Roll Company); Ontario, Canada (Roll-Kraft Ltd.); and Houston, Texas (Roll-Kraft Texas). Calls to the company's main line, (888) 953-9400 or (440) 205-3100, are greeted by a live operator who can assist callers in quickly reaching a technician, engineer, or sales staff, who can provide immediate assistance. The company's fax number is (440) 205-3110. Learn more about Roll-Kraft by visiting roll-kraft.com. For easy and immediate contact with Roll-Kraft that transcends time zones and working hours, the website features an easy-to-use contact form.