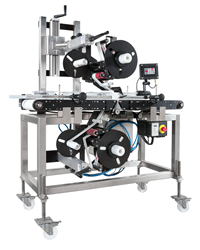 NEW FREEDOM, PA (PRWEB) November 01, 2016
EPI Labelers, powered by Pro Mach, is showcasing their Top and Bottom Labeling System during Pack Expo 2016, November 6-9 at McCormick Place in Chicago, Illinois. This print and apply labeling system is designed to label the top and/or bottom of all product packaging neatly and accurately. (EPI Labelers Pack Expo Booth #S-3707)
The Top and Bottom labeling system expands on EPI's industry leading durability and reliability in vertical and horizontal form, fill seal applications. One of the key benefits of this system comes from its ability to easily accommodate various packaging placement specifications. The labeling system features simple vertical and horizontal adjustments, allowing for quick and dependable label placement. The labeler works on nearly all types of packaging.
While this labeler can be used in a variety of packaging, the Top and Bottom Labeler is ideally suited for cosmetic, personal healthcare and retail food, including: baked goods, produce and confectioneries. Typical applications for the Top and Bottom Labeler include labeling on boxes, clamshells, tubs and trays, to name a few. Another great benefit of this system is that it is easy to set up and operate, designed in a way that allows for simple integration within established packaging lines.
Made with corrosion resistant materials, the Top and Bottom Labeler is durable enough to withstand harsh conditions in most production areas. All EPI labeling systems offer after-sale service, ensuring a high level of customer care and minimizing operational downtime.
To learn more about the new print and apply labeler, or about any other quality labeling systems for both promotional and primary labeling applications EPI has to offer, call 717-235-8345 or visit http://www.epilabelers.com. And, visit EPI Labelers at Pack Expo Booth #S-3707 to see the Top and Bottom Labeler machine in operation.
About EPI Labelers
For over 35 years, EPI Labelers has provided simple and durable labeling equipment for the packaging industry. Engineered for ease of use and reliability, EPI's labeling machinery is designed to integrate in to your packaging process. For short-term promotional needs, EPI maintains an extensive inventory of rental labelers ready to be deployed in as little as three weeks. EPI takes the time to understand your requirements and develop systems to meet them. Training is critical to a project's success, therefore, EPI's PMMI certified trainers offer outstanding after-sale support, and are always available to service your needs. For more information, call 717-235-8345 or visit http://www.epilabelers.com.
About Pro Mach
Pro Mach is a leading provider of integrated packaging and processing products and solutions for food, beverage, consumer goods, pharmaceutical, and other diverse companies. Through multiple brands, Pro Mach provides product packaging and processing equipment, PMMI certified trainers, installation, parts, and service in Bottling & Capping, Primary Packaging, Pharmaceutical Packaging, Flexible Packaging, Material Handling, Labeling & Coding, and End of Line, as well as Integrated Solutions for complete packaging lines.
Pro Mach has a diverse customer base, from Fortune 500 companies to smaller, privately held businesses worldwide, which depend on reliable, flexible, technologically advanced equipment and integrated solutions. Pro Mach is headquartered near Cincinnati, Ohio, with manufacturing facilities and offices throughout the United States, Canada, Mexico, Europe, United Arab Emirates, and China. For more information about Pro Mach, please visit http://www.ProMachInc.com.