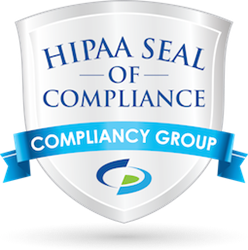 This is a pivotal moment for Compliancy Group and for MSPs across the country
Greenlawn, BN (PRWEB) November 01, 2016
Compliancy Group is proud to announce the new HIPAA verification and security certification offerings, powered by the HIPAA Alliance.
The HIPAA Alliance is a powerful combination of the HIPAA compliance verification from Compliancy Group's Seal of Compliance with the security certification of partners in the MSP, IT security, and accountant space.
Compliancy Group's Marc Haskelson debuted new opportunities for partnership with the HIPAA Alliance at the American Managed Service Providers 2016 Cyber Security Summit in Cincinnati, Ohio.
Compliancy Group will continue to introduce the HIPAA Alliance to MSPs and IT professionals at forums and events in the coming weeks, including Channel Pro in Boston and the MSP Roadshow in Orange County, California hosted by SAASMax. Haskelson will be hosting a lunch and learn at Ulistic's upcoming IT Nation event in Orlando for MSPs and IT security professionals to learn how to add Compliance-as-a-Service (CAAS) to their offerings and attract new clients in health care.
"This is a pivotal moment for Compliancy Group and for MSPs across the country," says Haskelson, President and CEO of Compliancy Group. "Growing security threats are causing doctors and health care professionals to seek out security solutions that will protect their businesses with a certification or validation that backs-up the work they've done. That's why we're eager to bring you HIPAA Alliance's Seal of Compliance HIPAA validation in partnership with our MSP partners for security certification. By combining Compliancy Group's HIPAA compliance solution with their pre-existing security solutions, partners can access valuable business in the health care industry and give clients the tools they need to confidently run their practices."
Click below to find out more about the HIPAA Alliance:
The HIPAA Alliance
HIPAA Compliance Software
About Compliancy Group:
Compliancy Group simplifies HIPAA compliance so that health care professionals can confidently run their practice. The Guard is our simple, cost-effective, web-based solution. Users are guided by our team of expert Compliance Coaches to Achieve, Illustrate, and Maintain total HIPAA compliance. Visit https://www.compliancy-group.com or call 855.854.4722 to learn how simple compliance can be.