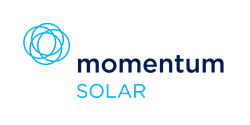 Metuchen, NJ (PRWEB) November 01, 2016
Momentum Solar, an Inc. 5000 fastest-growing private company, announces the expansion of their commercial division to ramp up solar-powered businesses throughout the Tri-State area. Headquartered in Metuchen, Momentum has opened offices in Cherry Hill and Long Island to support all service capabilities in states south of New Jersey and north of New York, respectively. Cherry Hill's office will host commercial operations, strategically located between I-295 and I-95.
Momentum (http://momentumsolar.com) welcomes a seasoned team with more than 100+ years of combined experience, installing over 300 MW (megawatts) on more than 100 businesses and schools — including Fortune 200 companies. Sean Angelini (President of Commercial Operations), Chris Baralus (Director of Engineering), Bruce Scott (Manager) and Bruce Trupo (Foreman) will oversee all commercial projects going forward, positioning Momentum as a top player for business installations throughout the country.
"We lead by developing and building innovative, profitable renewable energy solutions to benefit our customers, our communities, and our world," said Sean Angelini. "We are excited about bringing Momentum Solar to the next level of commercial project development and continuing to exceed all of our customers' expectations with best-in-class turnkey solutions that far exceed our competitors at every turn."
Momentum Solar anticipates annualizing 40 MW installed while operations remain strictly in-house, which offsets 35 million pounds of coal. Businesses can disrupt dirty energy production while reaping the benefits of subsidized federal and state investments.
"Business owners are quick to promote cleaner energy like solar," said Momentum Solar CEO Arthur Souritzidis. "It's important to send the right message to consumers about how we should generate our electricity. We've expanded our commercial division to better exemplify these core values we have as a company."
The ITC (Solar Investment Tax Credit) offers a 30% tax credit for commercial businesses through 2019 — then that percentage will start to decline. It's encouraged to install solar now and set an example for other companies. "Momentum for Business" is an easy way for business owners to reach out, understand how much commercial solar panels cost, and express their interest online.
About Momentum Solar
Momentum Solar is a privately held solar company headquartered in Metuchen, NJ. The company is committed to making solar panels affordable, providing savings for their clients, and helping the environment. Their team of in-house professionals has an extensive wealth of knowledge in designing solar power systems for both residential and commercial properties. Momentum Solar manages the entire customer life cycle from the sale to design, permitting, installation and activation of the system to make the process simple for homeowners and business owners.