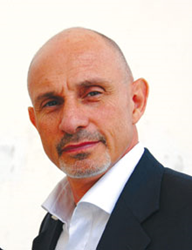 When I speak to NPower students and see the excitement they have for the possibilities before them, I realize the importance of the work we are doing
Brooklyn, NY (PRWEB) November 01, 2016
NPower, a national nonprofit that launches IT careers for veterans and young adults from underserved communities in the United States and Canada, announced today that Vittorio Cretella, Chief Information Officer (CIO) of Mars, Incorporated, has been elected to NPower's Board of Directors.
"Mr. Cretella is a tremendous global IT leader who has exemplified the strategic role technology plays in the success of a large, multi-national organization," says Dan Petrozzo, Chairman of NPower's Board of Directors. He continued, "As NPower expands to new regions as well as our program offerings within our current regions, our executive team will be fortunate to benefit from Mr. Cretella's more than 25 years of experience in the IT industry and his passion for innovation. Mr. Cretella's commitment to serving those who are underserved will open many leadership, mentoring and career development opportunities for NPower's students."
As CIO of Mars, Incorporated, Cretella leads a global team of more than 1,200 Information Services professionals, managing strategic partnerships with vendors and driving the company's IT strategy to deliver IT solutions and services to more than 85,000 Associates in more than 400 locations across 60 countries. For several years, Mars has been an NPower corporate volunteer partner, offering site visits to students in the core programs in New York and New Jersey and pro bono tech consulting for non-profits through NPower's outreach events. Mars is currently in the process of developing several volunteer-based initiatives with NPower targeted at STEM mentoring and coaching for teens and young adults.
"I am thrilled that Mars has partnered with NPower and I am honored to join its Board of Directors," said Vittorio Cretella. He continued, "When I speak to NPower students and see the excitement they have for the possibilities before them, I realize the importance of the work we are doing. From an employer standpoint, I appreciate NPower's commitment to evolving their no cost IT training programs to fit the needs of an industry that is constantly changing. Their commitment to a holistic approach to career-building ensures that graduates will have the technology skills and on-the-job experience needed for long-term professional growth and career success."
Mr. Cretella intends to be an active board member with NPower. He has already signed on to give the commencement speech for NPower's Tech Fundamentals New York Class 37 which includes students from both the Harlem and Brooklyn training programs.
"We are expanding our board to further strengthen NPower's breadth of expertise and enhance learning and employment opportunities for our students," says NPower CEO Bertina Ceccarelli, "Vittorio Cretella is a welcome addition, having spent over 20 years in the industry, and we look forward to his contributions and the pathways he will open for our students. NPower needs dynamic leaders like Mr. Cretella to propel NPower's future growth."
Mr. Cretella joined Mars Incorporated in 1991, and has held positions in all key disciplines of Information Services. As CTO of Mars, he drove a multi-year journey of standardization and consolidation to reduce the company's costs while increasing the company's service capabilities, and as CIO of Wrigley, he was instrumental in the successful integration of the Wrigley IT organization into Mars Information Services. Most recently and during his role as the Mars CIO, Mr. Cretella led a three-pronged IT Transformation Strategy that will keep Mars competitive by providing the IT capabilities to enable growth and efficiency at Mars, and introduced cloud-based communication and social collaboration services for the global, multi-segmented company.
About NPower
NPower is a national nonprofit that creates pathways to economic prosperity by launching digital careers for military veterans and young adults from underserved communities. We empower under-represented talent to pursue tech futures by teaching the digital and professional skills demanded by the marketplace, and engaging corporations, volunteers and nonprofits in the long-term success of our students.
NPower is the link between non-traditional job seekers and companies hiring diverse technology workers, creating an alternative fast-track to IT jobs on a national scale and engaging employers in our curriculum design.
Over 80% of our graduates are employed full time or enrolled in higher education within one year of completing our program, which is offered at no cost to qualified students.
For more information, visit NPower.org and follow us on Facebook, Twitter and Instagram.
About Mars, Incorporated
Mars, Incorporated is a private, family-owned business with more than a century of history and some of the best-loved brands in the world. Some of these iconic brands include: Petcare – PEDIGREE®, ROYAL CANIN®, WHISKAS®, IAMS®, EUKANUBA®, WHISTLE®, BANFIELD® Pet Hospital, PET PARTNERS ®, CESAR®, SHEBA®, DREAMIES®, WISDOM PANEL®, BLUEPEARL®, GREENIES® and NUTRO®; Chocolate – M&M'S®, SNICKERS®, DOVE®, GALAXY®, MARS®, MILKY WAY®, 3 MUSKETEERS® BOUNTY®, MALTESERS ®, TWIX® and AMERICAN HERITAGE®; Wrigley – DOUBLEMINT®, EXTRA®, ORBIT® and 5™ chewing gums, SKITTLES® and STARBURST® candies, and ALTOIDS® AND LIFESAVERS® mints; Food – UNCLE BEN'S®, DOLMIO®, EBLY®, MASTERFOODS®, SEEDS OF CHANGE® and ROYCO®; Drinks – ALTERRA COFFEE ROASTERS™, THE BRIGHT TEA COMPANY™, KLIX® and FLAVIA®; and Symbioscience – COCOAVIA®.
Headquartered in McLean, Virginia, Mars has more than $35 billion in net sales from Mars Petcare, Mars Wrigley Confections, Mars Food, Mars Drinks and Mars Symbioscience. More than 80,000 Associates across 78 countries are united by the company's Five Principles: Quality, Efficiency, Responsibility, Mutuality and Freedom and strive every day to create relationships with stakeholders that deliver growth we are proud of as a company.
For more information, please visit Mars.com.
Follow us on Facebook, Twitter,YouTube and LinkedIn.
# # #
Media Contacts
Kathryn Harriman, NPower
212.444.7245
kathryn(dot)harriman(at)NPower(dot)org
Jason Ripper, Mars, Incorporated
908-235-7940
jason(dot)ripper(at)effem(dot)com