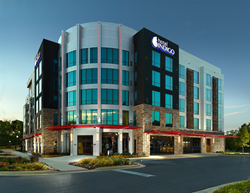 Tuscaloosa, Ala. (PRWEB) November 01, 2016
Chance Partners, LLC, announces the opening of Hotel Indigo® Tuscaloosa Downtown – an upscale riverfront boutique hotel, minutes from the experience and tradition of the University of Alabama, and only steps away from Tuscaloosa's vibrant entertainment district. Located at 111 Greensboro Avenue and nestled on the banks of the Black Warrior River, the hotel creates a personalized experience with distinctive design and amenities expressing the history and culture of the area. The 91-room hotel debuts as Tuscaloosa's first riverfront hotel and is Alabama's first Hotel Indigo property, a brand which is part of InterContinental Hotels Group (IHG), one of the world's leading hotel companies.
Each Hotel Indigo property is uniquely designed to reflect the culture, character and history of the surrounding neighborhood. When guests first arrive, the lobby provides a welcoming space with contemporary design mixed with rustic elements that convey the area's rich Southern history of freight transportation and cotton and whiskey production. High contrast tones of vibrant yellow and deep blue are integrated with dark wood architectural elements to mimic driftwood in the natural surroundings. Guests relax in spacious guest rooms featuring modern furnishings with twists of bold color – steel gray, navy blue and vivid green - inspired by the adjacent Black Warrior River.
Debuting The Lookout, an upscale rooftop bar, guests can enjoy a craft cocktail menu and local distillery options. Dining is inspired by Southern culture at the on-site restaurant, Shoal's Kitchen. Serving breakfast and dinner, Shoal's Kitchen has partnered with a seasonally changing cast of local vendors such as Snow's Bend Farms, Southfresh Farms, Heritage House Coffee & Tea, among others, to offer a fresh, locally sourced menu. Specialty menu items include the Catfish and Hushpuppies, Tuscaloosa Shrimp & Grits and Chicken Ala Alabama. With Pure Provisions -- a boutique grab-and-go option within the hotel -- neighbors and guests enjoy fresh sandwiches, snacks and beverages.
Guests also have access to a 24-hour fitness center and approximately 1,000 square feet of executive meeting space, a business center and a 2,500 square foot outdoor terrace with breathtaking views of the Black Warrior River and the Tuscaloosa Amphitheater. Additionally, the hotel is proud to provide guests with Tesla electric car charging stations. Strategically placed, the complimentary charging station allows guests to plug in when convenient and get back on the road quickly to enjoy Tuscaloosa's distinct Southern charm. The property also features the brand's Neighborhood Guide, an innovative touchscreen display that connects guests to each other, the local neighborhood and to Hotel Indigo locations and guests around the world. Hotel team members, many of whom are locals themselves, will share their favorite hidden gems with guests looking to explore and discover the neighborhood.
For more information on Hotel Indigo Tuscaloosa, visit http://www.indigotuscaloosa.com or call (205) 469-1660. Follow Hotel Indigo Tuscaloosa on Facebook, Google+ and Instagram for special offers and hotel happenings.
Hotel Indigo properties participate in IHG's guest loyalty program, IHG® Rewards Club, the industry's first and largest guest loyalty program with nearly 90 million members globally. IHG Rewards Club membership is free and guests can enroll by logging on at http://www.ihg.com/rewardsclub, by calling 1-888-211-9874 or by inquiring at the front desk of this hotel or any of IHG's more than 5,000 hotels worldwide.
Hotel Indigo Tuscaloosa hotel is owned by Chance Partners, LLC and is managed by Interstate Hotels & Resorts.
# # #
About Chance Partners, LLC The full master planned development is spearheaded by Chance Partners, a fully-integrated real estate firm specializing in the development of high-quality urban mixed-use communities with a focus on walkable downtowns and college towns across the south, including Athens and Savannah, Ga., Oxford, Miss., and Tallahassee and Jacksonville, Fla. Visit http://www.chance-partners.com for more information.
About Riverfront Village Riverfront Village is a dynamic mixed-use project located adjacent to the Tuscaloosa Amphitheater in downtown Tuscaloosa, Ala., less than one mile from the University of Alabama. The 7.5-acre development along the Black Warrior River encompasses four buildings, featuring the Hotel Indigo Tuscaloosa, 192 luxury apartments and more than 27,000 square feet of neighborhood retail space. Riverfront Village offers a compelling pedestrian-friendly live, work, play environment connecting downtown to the Riverfront Entertainment District. Visit http://www.riverfrontvillage.com for information on the apartments and visit http://www.shopsatriverfrontvillage.com for information on the retail.
About Hotel Indigo®
The Hotel Indigo® brand is a global boutique hotel brand that delivers a refreshing and inviting guest experience that is truly reflective of the local community. From the locally inspired murals to the renewal program where the music, scent, and menu items change throughout the year, each Hotel Indigo hotel delivers a vibrant, engaging and genuine boutique experience that gives guests the confidence to step out and explore the local neighborhood. Each Hotel Indigo property is unique and designed to reflect the local culture, character and geography of the surrounding area while brand hallmarks ensure consistent and reliable service from location to location. No two hotels are the same. There are 72 Hotel Indigo hotels open around the globe, with a quality global pipeline of 68 hotels set to open within the next three to five years. For more information or to make a reservation, visit http://www.hotelindigo.com. Find us on Twitter http://www.twitter.com/hotelindigo or Facebook http://www.Facebook.com/hotelindigo.