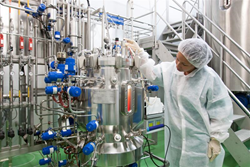 It's time to take the moonshot together against cancer.
Oakland, CA (PRWEB) November 02, 2016
MEDICC Review journal features an exclusive interview with the Director of Clinical Research of Cuba's Molecular Immunology Center, home to innovative cancer vaccines and therapies, including CIMAvax for non-small cell lung cancer, recently cleared for U.S. clinical trials. The Center is partner to Roswell Park Cancer Institute (Buffalo, NY) in a new joint venture just approved by Washington, to test CIMAvax and other novel Cuban therapies against cancer, a leading cause of death in both countries.
"It's time to take the moonshot together against cancer," said Gail Reed, MEDICC Review Executive Editor. "That's why we're seeing the green light for this joint venture, and also the recent agreement signed in Havana by Health and Human Services Secretary Sylvia Mathews Burwell. In this new political era, we are hopeful that our scientists can collaborate in tangible ways to fight cancer in both countries and around the world."
Read the complete interview with Dr. Tania Crombet, Director of Clinical Research, Molecular Immunology Center, Havana "Science, Passion & Compassion vs. Cancer".
Covering the latest in the field of Cuban health and medicine, the new issue of MEDICC Review also features:

MEDICC Review is the first peer-reviewed journal in English dedicated to publishing original manuscripts by Cuban health and related professionals on topics of medical research, population health, and policies and practice of health in Cuba. The journal also publishes international authors on subjects related to health equity and vulnerable populations. Over 40,000 articles are accessed monthly by readers in 140+ countries.
Published by Medical Education Cooperation with Cuba (MEDICC), Oakland, California, USA, MEDICC Review articles are available open access, free online and available through MEDLINE/PubMed and other indexing services. http://www.medicc.org/mediccreview
About MEDICC
Founded in 1997, MEDICC is a non-profit organization based in Oakland, California that has worked to promote US-Cuba health collaboration and highlight Cuba's public health contributions to global health equity and universal health. MEDICC facilitates mutual learning opportunities in several ways: its documentary film ¡Salud!; the open-access, MEDLINE-indexed English journal, MEDICC Review, that publishes research by Cuban and other scholars from the Global South whose work addresses health equity; insightful trips to Cuba for US health policymakers, educators and practitioners; a national network of US communities whose leaders have been inspired to innovate for better health, thanks to their MEDICC-organized experiences in Cuba; and by serving as an institutional bridge-builder between US, Cuban and global health institutions and organizations. MEDICC also assists US students and graduates of Havana's Latin American Medical School to return home to practice in provider-shortage areas, and supports US policies that facilitate greater health cooperation with Cuba for the benefit of people in both countries. To achieve our vision of health for all, MEDICC works with a global alliance of people who care about how others in the world live, learn, work, eat, play, and receive health care.