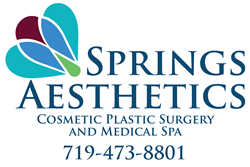 We want to show off our beautiful new facilities that are truly state-of-the-art and allow us to provide even a higher level of exceptional care to our patients.
Colorado Springs, CO (PRWEB) November 04, 2016
Dr. John Burroughs is proud to announce that the Springs Aesthetics medical spa in Colorado Springs will be hosting an open house on November 14th, 2016. This event will showcase the recent expansion of the state-of-the-art cosmetic and reconstructive cosmetic surgery facility, which will further boost the superlative care that Springs Aesthetics already provides and is highly regarded for. The goal of the open house is to offer a heartfelt day of rewards, refreshments, discounts, and informative demonstrations and discussions of the different cosmetic procedures and products used at the medical spa.
The Springs Aesthetics open house on November 14th will take place from 2 p.m. to 4:30 p.m. and is open to the public. The Springs Aesthetics open house will allow attendees to tour the new state-of-the-art facilities firsthand at 300 Garden of the Gods Road, Suite 100, Colorado Springs, Colorado. Upon entering the open house, guests will get a passport to carry with them. This passport will then be stamped in each room that they visit, and each room will have staff members discussing various products and procedures, such as Silkpeel, ThermiVa (vaginal rejuvenation for incontinence and more), and Mini FX (for turkey neck). Staff members will happily talk with attendees about the medical reasons to consult a medical professional, such as having droopy or dry eyes, as well as offering informative details on the different surgeries performed at the facility. Once a person's passport has five stamps, they can turn the passport in to enter one of the event's raffles. In addition, representatives from SkinCeuticals, EltaMD, Thermi, and Galderma will also be attending the open house in order to interact with guests.
To give thanks to their clients, the Springs Aesthetic open house will feature a number of raffles that offer a range of prizes for the lucky winners. Attendees can earn raffle tickets by attending the open house, bringing a friend, purchasing products, checking in with Facebook, following Springs Aesthetics on Snapchat, and by using the #springsaesthetics hashtag on Instagram. The various prizes that can be won include a SkinCeuticals gift basket, $400 of complimentary wrinkle blocker for three different winners, an Elta sunscreen gift basket, one syringe of Restylane filler, Silkpeel Lumixyl skin care lightening products, a gift card for $400 off ThermiVa, a Silkpeel procedure, a comp cosmetic consultation with Dr. John Burroughs, the Medical Director of Springs Aesthetics, and more. There will also be event-only specials that feature discounts on many popular cosmetic procedures and products, such as Lumecca, Avenova, Dysport, SkinCeuticals, Latisse, and more.
Dr. John Burroughs notes, "All of us at Springs Aesthetics are enthusiastically looking forward to our open house on November 14th. We want to show off our beautiful new facilities that are truly state-of-the-art and allow us to provide even a higher level of exceptional care to our patients. Those attending will be able to fully tour the expanded medical spa. One of the hallmarks of Springs Aesthetics is our commitment to providing our patients with all the information that they need to make a fully informed decision on their medical care. In keeping with this focus, our staff will be talking one-on-one with those attending our open house on the various medical issues that we routinely deal with as well as offering demonstrations on some of our most popular treatments. Our open house also gives us an opportunity to give thanks to our many loyal clients by offering discounts and raffles during the event, not to mention some tasty refreshments. Our entire staff is proud of our newly expanded medical spa, and we can't wait to show it off to our loyal customers."
About Springs Aesthetics
Springs Aesthetics of Colorado Springs, Colorado, is a state-of-the-art medical spa specializing in cosmetic and reconstructive surgeries. Their highly trained staff offer the highest level of service and compassion to their patients and offer a full range of services, from full reconstructive ocular surgery to the latest innovative aesthetic treatments. Springs Aesthetics is located at 300 Garden of the Gods Road, Suite 100, Colorado Springs, CO 80907. You can contact them by calling 719-473-8801.
About Dr. John Burroughs
Dr. Burroughs is Board Certified and a Fellow of both the American Society of Ophthalmic Plastic and Reconstructive Surgery and the American Academy of Ophthalmology. He is a specialist of the eyelids, orbits and face with twenty years of experience. Dr. Burroughs has treated tens of thousands of patients and has performed thousands of periocular and facial procedures and surgeries. He performs over one thousand surgical procedures on over six hundred patients on an annual basis. His practice sites include Claflin Eye Care in Canon City, Southern Colorado Eye Associates in Pueblo, Rocky Mountain Eye Center in Pueblo, and Springs Aesthetics in Colorado Springs. He is also an extremely proud veteran of the United States Air Force.
For more information on Dr. John Burroughs, you can contact him at info(at)drjohnburroughs(dot)com, visit the website at http://www.drjohnburroughs.com, or call 719-473-8801.