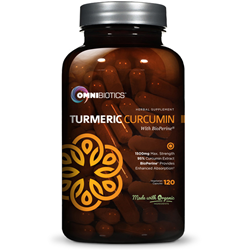 "By making it available on Amazon, we are able to show it to a multitude of people nationwide currently suffering from inflammation and joint pain."
Campbell, California (PRWEB) November 02, 2016
OmniBiotics spokesperson, Sarah Mitchell, has announced that the company's Organic Turmeric Curcumin with Black Pepper Extract is now available exclusively on Amazon.com. While many turmeric and curcumin supplements are available on Amazon, Mitchell and the OmniBiotics team are excited to release one of the only USDA Certified-Organic turmeric root formulations including curcumin extract from a 100% natural source and BioPerine® black pepper fruit extract for enhanced bioavailability.
"The goal was to present our turmeric curcumin supplement to those across the United States who could benefit from its proven and unique health benefits," said Mitchell. "By making it available on Amazon, we are able to show it to a multitude of people nationwide currently suffering from inflammation and joint pain."
This highly anticipated addition to the OmniBiotics nutraceutical line of products features USDA Certified Organic Turmeric Root with Standardized 95% Curcumin Extract, plus an added 10 mg of BioPerine® black pepper fruit extract for enhanced absorption. The formula highlights both turmeric root and the highly documented curcumin extract, thus providing a plethora of benefits within a single capsule.
Turmeric root powder supports a healthy inflammatory response. It exhibits antioxidant, anti-inflammatory, antiviral, antibacterial and antifungal activities as shown in an M.D. Anderson Cancer Center curcumin review inside the Phytotherapy Research Journal. Over 6,000 peer reviewed scientific articles have confirmed the wide range of benefits turmeric can provide. These benefits span from liver support to joint pain relief and more.
While studies show how effective these ingredients are, they also indicate low bioavailability. When ingesting turmeric or curcumin alone, it is difficult for the body to absorb. By adding black pepper fruit extract via the patented BioPerine®, absorption is no longer an issue, and the supplement's efficacy is increased. Piperine, the active component in black pepper extract, has been proven to increase curcumininoid absorption by up to 2000%.
It's been seen where companies utilize petroleum-based solvents or extraction methods to obtain their curcumin extract. OmniBiotics is proud to use 100% naturally-sourced 95% standardized curcumin extract in their turmeric formulation.
Ancient Ayurvedic medicine has long recognized turmeric's ability to strengthen the body and address certain health concerns, including liver issues, premature aging, and chronic diseases. Honoring this tradition, OmniBiotics has melded ancient herbal wisdom with modern medical research to create a potent, safe and effective supplement.
Each bottle of Organic Turmeric Curcumin with Black Pepper Extract contains 120 vegetarian capsules that are non-GMO, gluten free, vegan friendly and 100% free of animal by-products, binders, fillers and preservatives. With 1500 mg per serving, OmniBiotics offers a potent proprietary blend of organic turmeric root powder, 95% curcumin extract and BioPerine®.
This new product is manufactured in United States and adheres to strict Good Manufacturing Practices guidelines which forbids products to contain any harmful additives, traces of heavy metals or synthetic ingredients.
To stay up to date with the latest health news and products being released by OmniBiotics, interested persons can Like their Facebook Page or follow them on Pinterest.
People can learn more about the new Organic Turmeric Curcumin with BioPerine supplement by clicking here.