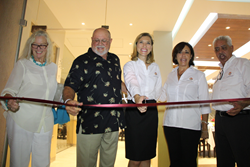 Cancún, Quintana Roo (PRWEB) November 01, 2016
Aiming to leave an indelible mark in all visitors to the Sunset World Resorts & Vacation Experiences hotels, "Terrazza" Restaurant began operations at Sunset Fishermen in Playa del Carmen with a completely new concept and tending toward a minimalist style, according to Annie Arroyo, Corporate Brand and Communication Director at Sunset World.
Fernando Alvear Bermúdez, Coporate Chef, pointed out that the All Inclusive gastronomy at Sunset World is geared toward offering customers smaller portions thus giving them the opportunity of sampling a greater variety and versatility of dishes.
"Terrazza is the first restaurant in the chain being remodeled under this concept thus all the à la carte menus and the buffet will be more international and gourmet, including the Mexican food which will be integrated into the variety of dishes offered", said Annie Arroyo.
"There will be a small samples of cuisine from all over the world but with a gourmet twist because members and guests at our hotel deserve it. They do not need to go elsewhere, here at their hotel they can satisfy their entire culinary experience", explained Mrs. Arroyo stating that it is possible to have an All Inclusive plan without sacrificing luxury.
"With the arrival of Corporate Chef Fernando Alvear, we began the process of getting re-organized to offer a new gastronomical experience at Sunset World and, in addition, we are preparing many new surprises for next year at all of our hotels," added Mrs. Arroyo.
"We want for all our guests to leave remembering what a great variety of dishes they were able to taste during their stay at the hotel, at Terrazza alone we offer around 40 different dishes," detailed Chef Alvear.
"We have a beautiful beach, comfortable facilities and very attentive staff, our challenge now is to delight our guests' palates, leave no room for complaints, for their experience at our facilities to be pleasant from beginning to end so they can remember it fondly," explained Chef Alvear, adding that they already have a small bakery that prepares delicious desserts as well as sweet and normal bread, and that they foresee, in the near future, to have a cooking station to prepare meat, fish and grilled chicken to order.