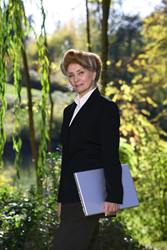 Grants Pass, OR (PRWEB) November 01, 2016
Water Life Science® advocate Sharon Kleyne, host of The Sharon Kleyne Hour Power of Water syndicated radio program on Voice of America, and Founder of Bio-Logic Aqua® Research Water Life Science®, has announced her support for a new report, Clear the Air for Children, from the United Nations Children's Fund (UNICEF).
"The report," said Sharon Kleyne, "calls attention to the fact that outdoor toxic air—'six or more times higher than international pollution guidelines'—is causing serious health damage and harm to the developing brains of 300 million children worldwide." Drawing on satellite imagery, the report also shows that 2 billion children inhabit areas in which outdoor pollution caused by excessive fossil fuel use, emissions from cars and other vehicles, burning of waste and dust exceeds the minimum air quality guidelines set by the World Health Organization (WHO).
Anthony Lake, Executive Director of UNICEF, said "Pollutants don't only harm children's developing lungs—they can actually cross the blood-brain barrier and permanently damage their developing brains—and, thus, their futures." Lake added that "air pollution is a major contributing factor in the deaths of around 600 thousand children under five every year. No society can afford to ignore air pollution."
Sharon Kleyne, who has long championed new water research, technology and educating the masses about water's powerful health benefits, agrees with Lake and goes even farther. "I commend UNICEF for focusing on air pollution and its global impact on children, but we need also to focus on water as our primary solution. As we know," Kleyne continued, "pollution causes excessive evaporation of earth's and the body's water vapor, and that water vapor must be supplemented several times a day to maintain good health." Kleyne explained the process. Our healthy breathing depends on water vapor in the air not being over-evaporated. This condition causes dehydration, which can lead to major health problems like blindness, melanoma, other cancers and even death.
Sharon Kleyne would like to see leaders and politicians around the world wake up to environmental crisis and make water the number one global infrastructure priority. "Water research and advanced water technology," said Kleyne, "are the keys to clearing the air of life-threatening pollution and improving everyone's health on the planet." Kleyne lamented the fact that water research all but ceased in the late 1800s because business and political leaders could not see how to invest in water and make it profitable. Of course, that has changed, but the change is still fairly recent, and not enough has been done to fund and carry out new water research. Despite this roadblock, Kleyne said "It has long been our goal at Bio-Logic Aqua® Research Water Life Science® to teach everyone on earth about the loss of the earth's and the body's water vapor through evaporation, and the need to supplement both."
For individuals, Sharon Kleyne recommends her company's Nature's Tears® EyeMist®, the only Trade Secret tissue culture grade water product to treat over-evaporation of the tear film covering the eye, which is 99% water, and dry eye disease on the planet, and Nature's Mist® Face of the Water® for supplementing body vapor loss of the skin (70% to 76% water). These are the only pure water products in the world to supplement the eyes and skin for water loss due to evaporation. Both are applied as a painless, patented micron mist from a personal, portable hand-held humidifier that is easy and even fun to use.
For the planet, Sharon Kleyne reiterates her position: "Leaders and politicians need to get serious about this water and pollution crisis and act now! Research water; develop necessary water technology, and clear air will follow."