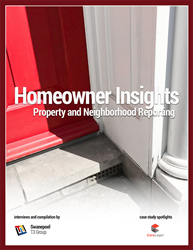 That's what ePropertyWatch is, it's your bank statement for your house.
SAN JUAN CAPISTRANO, CA (PRWEB) November 02, 2016
Berkshire Hathaway HomeServices Fox & Roach REALTORS faced a challenge familiar to many brokerages: how to help agents effectively keep in touch with their sphere of influence and past clients.
To achieve this important goal, the Tri-State-based company turned to CoreLogic's business-incubation platform ePropertyWatch. The tool helps agents keep in touch with their contacts with branded web reports that help homeowners track their home's value and determine how much they would net upon selling based on their current equity.
Within 12 months of rolling out the product, BHHS Fox & Roach reached the highest level of engagement the company had ever experienced with an email marketing system, based on research by T3 Sixty.
The standout agent adoption and strong consumer response reflect a well-designed rollout plan and high value ePropertyWatch brings to consumers.
"Everyone gets bank statements," Sajja said. "That's what ePropertyWatch is, it's your bank statement for your house, and that's what helped agents understand the benefits of the product."
BHHS Fox & Roach rolled the program out in early 2015 to all offices, and by the end of the year had achieved remarkable agent adoption results. Email and click-through rates remain strong and volume increases as more consumers subscribe to the system.
To see all results, as well as the three-step plan to optimize agent adoption, read the complete case study here.
ABOUT CORELOGIC
CoreLogic (NYSE: CLGX) is a leading global property information, analytics and data-enabled solutions provider. The Company's combined data from public, contributory and proprietary sources includes over 4.5 billion records spanning more than 50 years, providing detailed coverage of property, mortgages and other encumbrances, consumer credit, tenancy, location, hazard risk and related performance information. The markets CoreLogic serves include real estate and mortgage finance, insurance, capital markets, and the public sector. CoreLogic delivers value to clients through unique data, analytics, workflow technology, advisory and managed solutions. Clients rely on CoreLogic to help identify and manage growth opportunities, improve performance and mitigate risk. Headquartered in Irvine, Calif., CoreLogic operates in North America, Western Europe and Asia Pacific. For more information, please visit http://www.corelogic.com.
ABOUT BERKSHIRE HATHAWAY HOMESERVICES FOX & ROACH
Berkshire Hathaway HomeServices Fox & Roach, REALTORS, is a part of HomeServices of America, the nation's second largest provider of total home services. The company has more than 4,500 Sales Associates in more than 65 sales offices across the Tri-State area. Find out more at http://www.foxroach.com.
ABOUT T3 SIXTY
Today's global real estate economy requires visionary leadership. The consulting arm of the Swanepoel T3 Group, T3 Sixty provides CEOs, business leaders, association and MLS executives, and brokers and high-performance teams the knowledge, best practices and support to reshape and accelerate their businesses. As its name suggests, T3 Sixty provides a 360-degree approach to real estate businesses with extensive research and trend and strategic analysis. It provides an authoritative perspective on business innovation, digital disruption, and management, and supports firms with risk and compliance assessments and preparation. Visit t3sixty.com.