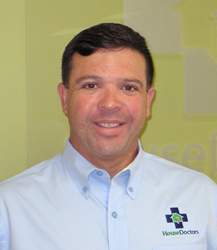 House Doctors is a professional handyman service and that means any repair we do will be done right.
McLean, VA (PRWEB) November 01, 2016
When Richard Marzan opened House Doctors in the fall of 2015, it was because he saw an opportunity to meet two needs: he wanted to begin a new career after retiring from the Army and the community needed a trustworthy, professional handyman service. Now Rich and his team are thrilled to celebrate the one-year anniversary of House Doctors of McLean.
"The first year of a new business is always a building year and we've done that. Now, with a solid foundation, we are moving forward with plenty of lessons learned and a bright future. We exceeded all expectations and we're receiving strong community support – I'm very excited about year two," Rich said.
House Doctors of McLean offers professional handyman services in Dunn Loring, Falls Church, Great Falls, McLean, Arlington, Oakton, Tysons and Vienna as well as the surrounding areas. The team at House Doctors is focused on professionalism, service excellence and quality workmanship. Their goal is to make home improvements easier for their customers by being on time, doing the job right and offering a one year workmanship guarantee.
Rich Marzan, a retired Lieutenant Colonel, served in the United States Army for more than 27 years. He is an ROTC Distinguished Military Graduate and a 1995 graduate of the Armor Officer Basic Course at Fort Knox, KY. Marzan earned his Bachelor's degree in Industrial Management from the Polytechnic University of Puerto Rico and his Master's degree in Administration from Central Michigan University. He is also a graduate from the Captains Career Course and the United States Army Command and General Staff College. Rich Marzan's awards and decorations include the Defense Meritorious Service Medal, Meritorious Service Medal, Iraq and Afghanistan Campaign Medals, Humanitarian Service Medal, NATO Medal, and the Parachutist and Rigger Badge.
"I retired from the military in 2015 and I didn't want to transition into an office job or government contracting work. With the help of the Army Retirement Services, I met with a business coach who opened my eyes to franchising. When I talked to the folks at House Doctors, I knew this business would be a good fit for me and for the region I call home," Rich said. "House Doctors is a professional handyman service and that means any repair we do will be done right. You won't be disappointed in our high quality work and, if there are ever any concerns, we are a local company and we are here to help."
House Doctors' experienced, insured, background checked and uniformed handymen technicians specialize in projects that take two hours to two days to complete, such as light remodeling and repairs of decks, doors, bathrooms and kitchens; repairing drywall; painting; exterior repairs; making home modifications and much more.
In addition to using lessons learned to make the second year of business even stronger, Rich is currently working with the House Doctors franchising team to expand his service area into Maryland.
"We have an incredible, hardworking team and I know people outside our current service area could use our expertise. Hopefully, we will be serving the people of Maryland before Thanksgiving," Rich said.
For more information about House Doctors of McLean or for an estimate on your project, call (703)639-0391, email HD535(at)HouseDoctors.com or visit http://housedoctors.com/handyman-mclean/.
About House Doctors
House Doctors Handyman Service has been helping homeowners across the United States with home repair and light remodeling projects for more than 20 years. Our friendly, insured and bonded craftsmen are scheduled to be there on time and are committed to complete customer satisfaction. Each of our technicians are experienced in home maintenance, product installations and a variety of home improvements. We're so confident in our team and products that every job we perform comes with a one-year guarantee.