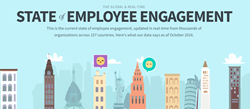 "It's arguably the richest data set for anyone looking to understand how employees across the world are truly feeling. The statistics that we were able to uncover are truly alarming"
Montreal, Canada (PRWEB) November 02, 2016
Officevibe, the leader in employee engagement software, releases a real-time report on the State of Employee Engagement based on hundreds of thousands of answers from their survey software. The report shows how employees worldwide are overworked, undervalued and unhappy with their jobs.
For this report, Officevibe collected answers from more than 50,000 users about employee engagement each week from over 150 countries, across more than 1,000 companies. This represents 1,200,000 data points making it the most current and accurate portrait of the employee engagement landscape.
"This is one of the biggest things that's ever been done in the HR industry," says Dan Benoni, CEO of Officevibe. "It's arguably the richest data set for anyone looking to understand how employees across the world are truly feeling. The statistics that we were able to uncover are truly alarming."
Key Findings From The Report

15% of employees plan to leave their company this year
1 out of 3 employees has to wait more than three months to get feedback from their manager.
64% of employees aren't satisfied with their current salary and benefits package.
For more insights and to learn how you can improve employee engagement on your team, visit [http://www.officevibe.com/state-employee-engagement.
About Officevibe
Officevibe is an employee engagement software sending one survey per week to monitor employee satisfaction in real-time, allowing employees to express anonymous feedback. The survey questions are simple, fresh and engaging while providing actionable reports. Companies on Officevibe enjoy survey completion rates up to 330% higher than the average. Week after week. The company believes that everyone should be happy at work.