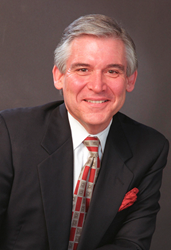 If current policies to replace coal continue around the world, then the world is going to need natural gas, which has half the carbon content of coal
Glen Allen, Va. (PRWEB) November 02, 2016
The daily ups and downs of the global market for natural gas can obscure the encouraging prospects for U.S. gas exports over the long haul, writes Roy Palk, Senior Energy Advisor for national law firm LeClairRyan, in a recent column for EnergyCentral.com.
"The longer-term view for U.S. exports of liquefied natural gas (LNG) is looking up for the next decade or longer," says the attorney, a former CEO of the East Kentucky Power Cooperative. "Weighed against decades, rather than quarters or even years past, the U.S. export market is in the midst of a major shift as the country moves toward becoming a net exporter of LNG and a major supplier to the world."
In the column ("The Long Game: Betting on the Growth of U.S. Gas Exports"), Palk notes that short-term traders must constantly weigh a raft of ever-fluctuating factors, including the price per MMBtu, U.S. well efficiency and production, crude oil prices, the actions of OPEC and annual electricity demand in Mexico.
But as investors pour billions of dollars into new export terminals, pipelines and related infrastructure geared toward ramping up the efficiency of the export process, they are keeping the long game in mind, Palk says. "They see clearly that, in the years ahead, demand will be robust, not only in Canada and Mexico, but also in many European and Asian countries, notwithstanding relatively brief times in which production is flat or even reduced in comparison to prior reporting periods," he writes.
Today, Palk writes, factors driving the expansion of U.S LNG exports include the remarkable sophistication of production technology; abundant supply from shale reserves containing literally trillions of BTUs of energy; the historic Panama Canal expansion and its dramatic effects on the speed and efficiency of LNG shipping; the ongoing construction of new terminals geared toward U.S. LNG exports; and the political climate in Europe, where many countries are growing increasingly circumspect about their reliance on Russian gas.
While the domestic market in Europe is highly complicated, and stateside environmental and community activists get a lot of attention, Palk believes that facts and market forces will prevail in the end. "If current policies to replace coal continue around the world, then the world is going to need natural gas, which has half the carbon content of coal," he writes. "Moreover, gas-fired generating facilities are easier to build and get permitted than coal facilities. As I see it, the truth of this will surely be a driving factor in both the United States and abroad."
To some, shipping LNG from the United States all the way to, say, Germany or the United Kingdom might seem irrational given the logistical challenges and distances involved. "But I see every reason to look past the daily ups and downs and bet big on the long-term growth of this dynamic market," Palk writes in the conclusion to the piece.
The full column is available at
http://www.energycentral.com/c/pip/long-game-betting-growth-us-gas-exports
About LeClairRyan
As a trusted advisor, LeClairRyan provides business counsel and client representation in corporate law and litigation. In this role, the firm applies its knowledge, insight and skill to help clients achieve their business objectives while managing and minimizing their legal risks, difficulties and expenses. With offices in California, Connecticut, Delaware, Georgia, Maryland, Massachusetts, Michigan, Nevada, New Jersey, New York, Pennsylvania, Rhode Island, Texas, Virginia and Washington, D.C., the firm has approximately 380 attorneys representing a wide variety of clients throughout the nation. For more information about LeClairRyan, visit http://www.leclairryan.com.
###
Press Contacts: At Parness & Associates Public Relations, Bill Parness, (732) 290-0121, bparness@parnesspr.com.