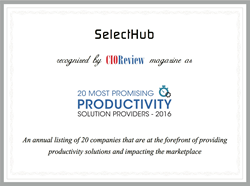 The financial savings opportunity by using SelectHub is substantial and is definitely a concept whose time has come.
Denver, CO (PRWEB) November 03, 2016
SelectHub, chosen by a panel of CEOs, CIOs, analysts and CIOReview's editorial board as a top productivity solution for its technology selection management platform, helps organizations accelerate technology acquisitions and make better IT investments.
To help organizations find best-of-breed productivity tools that suit their business needs, CIOReview has selected prominent technology vendors in the highly competitive productivity software arena. The firms featured in this issue exhibit in-depth knowledge and innovation in bringing world-class efficiency-boosting technology to market.
"We are happy to announce SelectHub as one among the 20 Most Promising Productivity Solution Providers 2016," said Jeevan George, Managing Editor of CIOReview. "SelectHub is committed to helping companies optimize and standardize their technology evaluation and investment models."
SelectHub's inclusion in the list is due to its technology designed to save enterprises time and money by simplifying and improving the technology selection process. According to Gartner, "global enterprise software spending is expected to reach $357 billion in 2017, a 7.2 percent increase from 2016" and the overall projected global IT spend is $3.5 trillion. "Using SelectHub to identify the software that best meets the organization's requirements results in substantial cost savings and risk reductions. Most important it helps ensure the new software will fully meet expectations. SelectHub is a concept whose time has definitely come," said Chris Doig, software selection expert and CEO at Wayferry.
The CIOReview article goes on to state "With hundreds of new vendors emerging annually in every major software market, the need for IT oversight in selecting the right vendor cannot be overstated. Yet, given the speed at which business users want to make decisions (often armed with partial data and superficial recommendations), most mid-market and larger enterprises end up with copious amounts of seemingly redundant and unvetted technology solutions."
SelectHub's technology selection management solution eliminates the time-consuming and error-prone business of IT and software requirements compilation, vendor evaluations and sourcing by centralizing all activities on an easy-to-use, intelligent platform. It provides a guided best practice workflow for the entire selection process from requirements to vendor shortlists and RFP processes—greatly reducing time and errors—and allowing all participants to contribute effectively.
About SelectHub
SelectHub is a cloud-based technology selection management (TSM) software platform helping streamline software selection and IT sourcing to be more agile and collaborative. The platform supports a comprehensive set of evaluation stages from requirements gathering to vendor shortlisting, demos and user trials, RFI/RFPs and contract negotiation. SelectHub customers include Hunter Douglas, Advanced Energy, QEP Resources and the State of Colorado. To learn more, please visit selecthub.com.
About CIOReview
Published from Fremont, California, CIOReview is a print magazine that explores and understands the plethora of ways adopted by firms to execute the smooth functioning of their businesses. A distinguished panel comprising of CEOs, CIOs, IT VPs including CIOReview editorial board finalized the "20 Most Promising Productivity Solution Providers 2016" in the U.S. and shortlisted the best vendors and consultants in Enterprise Asset Management arena. For more info: http://www.cioreview.com/