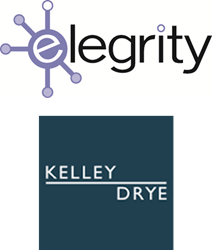 We made sure to base this selection on not just the software capabilities, but the vendor's ability to deliver.
San Francisco, CA (PRWEB) November 02, 2016
Kelley Drye & Warren LLP, headquartered in New York, NY has selected Elegrity and its E-Valuate™ Conflicts of Interest software to complete the firm's upgrade from its current Conflicts software. Elegrity is a software manufacturer focused on law firm enterprise software, headquartered in San Francisco, CA. Kelley Drye & Warren LLP, founded in 1836, is renowned for its reputation in Litigation and other key practice areas, such as Labor and Employment law, among others.
"The selection of Elegrity came after we were unable to complete this critical upgrade with two previous vendors. As a result of those experiences, we made sure to base this selection on not just the software capabilities, but the vendor's ability to deliver. Elegrity came to the table with a codified project approach and hands-on experience with successful, timely completion of other similar migrations and that gave us the confidence to proceed," states Judith Flournoy, Kelley Drye's CIO.
In the past 3 years, Elegrity has replaced every major legacy Conflicts of Interest software with its state-of-the-art E-Valuate™ software in AMLAW 100, AMLAW 200 and smaller law firms throughout the United States. Elegrity implements E-Valuate™ as a stand-alone product and in-combination with its complimentary Elegrity Connect™ product suite, which includes E-Win™ (New Business Intake), E-Conclude™ (Matter Closure), and several other modules targeted with laser focus at Law Firm business process improvement. E-Valuate™ may also be integrated with other 3rd party software.
"When I heard the pain Kelley Drye had experienced in its quest to move away from an obsolete Conflicts of Interest software, it saddened me. I was sad for Kelley Drye, and sad for other firms who have found themselves similarly stranded. Elegrity is determined to provide Kelley Drye and law firms globally with a better option – the option of timely and effective Conflicts of Interest, New Business Intake and other implementations," says Joy Spicer, President & CEO of Elegrity.
Law Firms are experiencing a dramatic shift in the realm of Conflicts of Interest software. Some of that shift was created by the acquisition of a well-known vendor, while some is being influenced by shifts in other areas, such as Finance system software changes. This has left many firms feeling like they are between a rock and a hard place, wondering where to turn for the next major shift in their risk management software.
"Elegrity is uniquely differentiated from our competitors in 3 key ways. First, we don't mess around. We bring unprecedented discipline to our project execution, as is required to achieve timely and cost-effective migrations. Second, we bring to bear over a decade of experience in the realm of law firm Conflicts of Interest and New Business Intake from both a technology and business perspective. Third, we look for new ways to solve long-term problems through our technology. Rather than using the same approaches that have been used for years and putting a pretty face on it, we aren't afraid to challenge the standards, to think differently, and therefore to solve problems more effectively – all in the interest of better results for our customers," continues Ms. Spicer.
In addition to the software itself, Elegrity will also be providing all services needed to effectively transition Kelley Drye to E-Valuate™, inclusive of data migration, finance system integrations, training and more.
About Elegrity, Inc.
Elegrity is the manufacturer of Elegrity Connect™, the only Law Firm Business Process Management and Law Firm Big Data platform built specifically to implement Cradle-to-Grave® management of law firm clients, matters and employees.
Legal Notices
Copyright 2016 Elegrity, Inc. All Rights Reserved. 160 Pine Street, San Francisco, CA. All trademarks, trade names, service marks, and logos referenced herein belong to their respective companies.