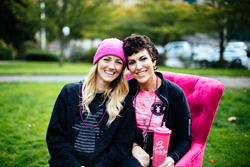 Dutch Bros to honor to "Be Aware" and continue to support the advancement of breast cancer research and patient support.
GRANTS PASS, Ore. (PRWEB) November 02, 2016
For the entire month of October, all 272 Dutch Bros locations partnered with their communities to raise $220,451 to support the advancement of breast cancer research and patient support at both the OHSU Knight Cancer Institute and Albie Aware.
To raise funds, all Dutch Bros locations donated $5 from every specialty "Be Aware" travel mug sold throughout the entire month of October. The sales of the mugs was in conjunction with Breast Cancer Awareness month, so every mug purchase presented the opportunity to further raise awareness of this disease that affects so many lives.
"We are so happy to partner with such outstanding organizations working hard each day to show love to those facing breast cancer," said Travis Boersma, Co-founder Dutch Bros Coffee. "So many of our friends and family have been impacted by this disease and we are enthusiastic about the work these organizations are doing."
Dutch Bros locations throughout the seven states in which the company operates raised $205,211 for the OHSU Knight Cancer Institute. The funds donated from the Dutch Bros' "Be Aware" mugs will support the institute as they continue to the advance breast cancer research and to develop new techniques for detection, treatment and prevention.
Dutch Bros locations in Sacramento raised $15,240 for Albie Aware—a local nonprofit that strives to provide not only awareness, but also prevention, treatment and financial support to those facing the trails and tribulations of breast cancer. Funds raised will directly benefit Albie Aware as they continue to help members of the community receive proper breast cancer diagnoses, as well as further support community members who are currently fighting the breast cancer battle.
###
About Dutch Bros Coffee
Dutch Bros Coffee is the country's largest privately held, drive-thru coffee company, with over 260 locations and over 5,000 employees in seven states.
Dutch Bros serves specialty coffee, smoothies, freezes, teas and a private-label, Dutch Bros Blue Rebel energy drink.
The rich, proprietary coffee blend is handcrafted from start to finish. Every ingredient is measured, every process timed, and every cup perfected.
With a mission of, "Making a Difference, One Cup at a Time," Dutch Brosdonates over $2 million annually to nonprofit organizations and local causes selected by local owner-operators.
Dutch Bros Coffee is headquartered in Grants Pass, Ore., where it was founded in 1992 by Dane and Travis Boersma, brothers of Dutch descent.
To learn more about Dutch Bros, visit http://www.dutchbros.com, like Dutch BrosCoffee on Facebook or follow @DutchBros on Twitter.
Media Contact Only:
Jen Wheatley, pr(at)dutchbros.com, 541.226.7787