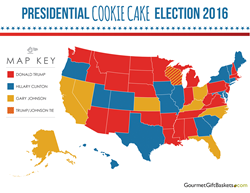 Our polls truly reflect how close this race is -- as well as some disappointment over the choices we have for President.
Kingston, NH (PRWEB) November 01, 2016
Given the bitter nature of this year's U.S. Presidential Election, GourmetGiftBaskets.com launched two polls as part of its Presidential Cookie Cake Campaign to sweeten the deal for the electorate a few weeks ago.
The popular online retailer has declared today "Cookie Tuesday" – the day when results from these polls can be revealed, showing what voters (and cookie lovers) are really thinking. The first poll, representing the Cookie Campaign's popular vote, shows Donald Trump with 44% of the total, Hillary Clinton with 42%, and Gary Johnson with 14%. These results reflect the preferences of over 2,000 adults who have visited the voting site to date.
The second poll was meant to delve into the sentiments of voters in each state, as well as the District of Columbia. Nicknamed the GourmetGiftBaskets.com Electoral College, it surveyed over 1,200 adults at 51 companies, ranging from Mom & Pop establishments to Fortune 100 corporations. A company in each state was sent three, 10-inch cookie cakes, featuring caricatures of each candidate. The first cake to be eaten was declared the winner of that state.
Trump won 209 electoral votes, triumphing in 25 states, while Clinton had 184 votes, emerging victorious in 17 states. Clinton came out on top in some surprise states, including often-conservative Texas, while Trump won in Massachusetts, a liberal-leaning state.
But neither candidate acquired the necessary 270 votes to actually win the Electoral College, as Gary Johnson claimed a whopping 145 votes, and controlled several "swing states," including Ohio, Florida and North Carolina.
Comments from the Electoral College voters showed three distinct camps: staunch Clinton supporters, pro-Trump evangelists, or working people who really disliked both of them. Some said that they didn't even know who Johnson was, but were willing to go with the unknown over Clinton or Trump.
"With just a week before the official election, the GourmetGiftBaskets.com polls truly reflect how close this race is – as well as some disappointment over the choices we have for President," said GourmetGiftBaskets.com's Vice President of Sales and Marketing Jason Bergeron. "And these polls demonstrate that Gary Johnson has the potential to steal vital votes from either camp, something that Trump and Clinton supporters have feared, and for good reason."
To learn more about GourmetGiftBaskets.com's Presidential Cookie Cake Campaign (#CookieCakeElection), or to voice your choice in the ongoing popular vote, click here. If the Cookie Cake Campaign popular vote changes dramatically in the next week, the company will issue another update to the media.
If you're interested in ordering your own Presidential Cookie Cake or sending one to a friend, loved one, or even someone who disagrees with your political views, please go to GourmetGiftBaskets.com. Each cake is only $34.99 and ships for free.
Finally, if you're planning an election night party and want to order all three cookie cakes to stage your own mini-elections, you can purchase them together for just $79.99 with free shipping (a savings of nearly $25).
###
Media Contact: Chuck Casto, chuckcasto(at)gmail(dot)com, 508-314-3284.
Disclaimer: GourmetGiftBaskets.com, its partners, vendors and subsidiaries are not affiliated with, sanctioned by, or endorsing any candidate.  This Presidential Cookie Campaign and the associated polling are strictly being done for fun.
GourmetGiftBaskets.com was founded with family values and the desire to provide exceptional gifts for all of life's special occasions. What began with two family members in the basement of a flower shop has exploded into a multi-million-dollar company recognized multiple times by Inc. 500, Internet Retailer, Enterprise Bank, and more, while still remaining true to its core values of exceptional gourmet ingredients handcrafted with care. The company has built its reputation on the quality, beauty, and diversity of its offerings along with service that includes same-day delivery of some gift baskets.