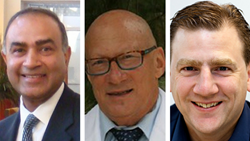 Yorba Linda, Ca (PRWEB) November 02, 2016
A significant emergence of data shows a consistent relationship between the novel biomarker proEnkephalin (PENK) and renal function. As data continues to accrue in the medical literature the importance of understanding it's clinical context and implications. This webinar, sponsored by sphingotec, will provide an update on PENK research and clinical findings, as well as perspectives from leading authorities in renal disease and novel biomarker application.
This presentation will characterize the current clinical and laboratory standards for determining risk for chronic renal dysfunction and acute kidney injury. The importance of timely prediction of AKI and diagnosis/treatment of AKI will also be discussed. The potential for novel biomarkers to provide solutions for patient care in this area and the characteristics of an ideal biomarker for AKI will be described.
By the end of the webinar, participants will be able to characterize the current challenges is management of chronic and acute renal disease, as well as provide an evidence-based review of the emergence of PENK as a renal function biomarker.
There will be three presenters during the course of this webinar; Dr. Ravindra Mehta, professor of clinical medicine at the University of California, San Diego (UCSD); Dr. Alan Maisel, professor of medicine at UCSD; and Dr. Olle Melander, professor and chair of internal medicine at Lund University.
Mehta earned his doctorate of medicine from the Post Graduate Institute of Medical Education and Research in Chandigarh, India. He subsequently completed a nephrology fellowship at the University of Rochester in New York. He has been on the UCSD faculty since 1988 and is a professor of medicine in the Division of Nephrology and associate chair for Clinical Affairs in the Department of Medicine at UCSD where he directs the clinical nephrology and dialysis programs.
Maisel graduated from the University of Michigan Medical School, received his internal medicine training at Michael Reese Hospital in Chicago, and completed a cardiology fellowship at the University of California, San Diego (UCSD). He is the Director of the Coronary Care Unit and Heart Failure Program at the VA San Diego Healthcare System in La Jolla, California, as well as an active faculty member at UCSD. He recently finished a ten-year stint as Associate Editor of the Journal of the American College Cardiology.
Melander is professor of internal medicine at Lund University and consultant at the Department of Internal Medicine, Skåne University Hospital, Malmö, Sweden. His research is focused on improvement of cardiovascular risk stratification and identification of potentially life style and drug modifiable mechanisms behind diabetes and cardiovascular disease. He has been main tutor for seven completed doctorate projects, of which all are still active clinicians.
LabRoots will host the webinar on November 9, 2016 at 8:00 a.m. PT, 11:00 a.m. ET. To see full event details, learn about continuing education credits or to register for the webinar, click here.
About sphingotec
sphingotec GmbH, Hennigsdorf (northwest of Berlin), Germany, develops diagnostic methods for prediction, prevention, intervention strategies, and early treatment of diseases in the fields of cancer, cardiovascular diseases, and kidney function. The company provides biomarkers indicating susceptibility for a specific disease, which enables the monitoring of prevention-and-intervention strategies. The company was established in 2002 by Dr. Andreas Bergmann, one of the founders and managers of B.R.A.H.M.S. Aktiengesellschaft, where, in addition to several other biomarkers, the sepsis marker Procalcitonin (B.R.A.H.M.S PCT®) was developed, creating a new diagnostic standard of care supporting patient management in sepsis.
About LabRoots:
LabRoots is the leading scientific social networking website and producer of educational virtual events and webinars. Contributing to the advancement of science through content sharing capabilities, LabRoots is a powerful advocate in amplifying global networks and communities. Founded in 2008, LabRoots emphasizes digital innovation in scientific collaboration and learning, and is a primary source for current scientific news, webinars, virtual conferences, and more. LabRoots has grown into the world's largest series of virtual events within the Life Sciences and Clinical Diagnostics community.