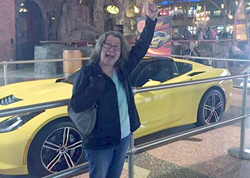 Norwich, CT (PRWEB) November 03, 2016
Rita Cefalu of Middletown, CT is the lucky winner of a new 2016 Chevrolet Corvette Stingray and $10,000 cash in the 'Speed Away in a Stingray Sweepstakes', presented by Scranton Chevrolet of Norwich & Mohegan Sun. Cefalu will take delivery of the new 2016 Corvette Stingray at Scranton Chevrolet of Norwich (774 West Thames Street, next door to Mohegan Sun) on Saturday, November 5.
"It was a thrill to be able to provide this Corvette giveaway for guests, alongside our friends at Scranton Chevrolet," said Dave Martinelli, Chief Marketing Officer for Mohegan Sun. "This was a beautiful car that was showcased here at Mohegan Sun and it's great to hear that Rita will be taking it home to Middletown"
"Sometimes you really can get something for nothing, and once in a while…it's a Corvette" said General Manager Matt Scranton. "We're so happy for Rita, and so proud of all the community projects we've partnered with Mohegan Sun on."
In addition to this giveaway, Scranton Chevrolet of Norwich and Mohegan Sun have also partnered to give away a Chevrolet Impala to a veteran through the Vessels for Veterans program, and to provide food and fun for the Norwich community at the dealership's Grand Opening in July.