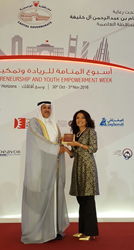 "It was a pleasure having Nina Vaca as a PAGE Ambassador here to be an example and advocate for entrepreneurship and to inspire rising global business leader said H. E. Sheikh Hisham bin AbdulRahman Al Khalifa
Dallas, Texas (PRWEB) November 01, 2016
Pinnacle Group, a leading provider of IT services and workforce solutions, announced today that its CEO and Chairman Nina Vaca is traveling this week to the Kingdom of Bahrain at the invitation of the U.S. Embassy of Bahrain to participate in the "Manama Entrepreneurship and Youth Empowerment Week" in her role a Presidential Ambassador for Global Entrepreneurship (PAGE).
Held in the Kingdom of Bahrain's capital city of Manama, this week-long event gathers renowned entrepreneurs and innovators from around the globe to teach, empower, and inspire the next generation of entrepreneurs in Bahrain. It also provides existing business owners an opportunity to gain advice and support for their ventures.
"The Manama Week for Entrepreneurship and Youth Empowerment is an incredible opportunity to advance the global economy through encouraging entrepreneurship," says H. E. Sheikh Hisham bin AbdulRahman Al Khalifa, Governor of the Capital Governorate, Bahrain, "It was a pleasure having Nina Vaca as a PAGE Ambassador here to be an example and advocate for entrepreneurship and to inspire rising global business leaders."
This year's event, themed "Widen Your Horizons," features discussions and workshops on the latest trends driving global business and is supported by NGO's, entrepreneurs, and various public and private sector entities.
"It's an honor to be invited to keynote and participate in the Manama Entrepreneurship and Youth Empowerment Week," says Vaca. "I truly believe that you can't be what you can't see. I was blessed to have examples of entrepreneurship and leadership in my life, and now as a PAGE Ambassador I can serve as that example to others. This event is an exciting opportunity for the next generation of entrepreneurs to be inspired and empowered to build their own successful businesses."
Vaca kicked off the opening ceremony with a keynote speech on how entrepreneurs can succeed in the global economy. Over her visit, Vaca will engage in numerous speaking events at the Royal University for Women, the University of Bahrain, the ICT Symposium, and the Rowad Young Entrepreneurs Group. In addition, she will be leading a workshop on entrepreneurship and technology for young entrepreneurs and share her own entrepreneurial journey of founding Pinnacle Group twenty years ago and growing it to the size and stature it is today.
ABOUT NINA VACA
As a PAGE ambassador, Vaca has spoken to and inspired entrepreneurs all over the world, traveling to countries on five continents to empower the next generation of business leaders. A global leader, Vaca is also a German Marshall Memorial Fellow and serves as a delegate of the British-American Project. She is Chairman Emeritus of the United States Hispanic Chamber of Commerce and a member of the 2016 Class of Henry Crown Fellows at the Aspen Institute. For more information visit: http://www.ninavaca.com
ABOUT PINNACLE GROUP
Pinnacle Group is a leading provider of information technology services and workforce solutions. Led by Chairman and CEO, Nina Vaca, Pinnacle Group includes Pinnacle Talent Solutions, its information technology staffing and professional services division; Pinnacle MSP, its managed services division; Pinnacle Payrolling, providing payrolling and independent contractor compliance services; and Pinnacle Canada, providing staffing, MSP, and payrolling services in Canada. Named the Fastest Growing Women-Owned/Led Company in the U.S. by the Women President's Organization in 2015, Pinnacle Group has become one of the largest providers in its industry with thousands of IT professionals providing services across the U.S. and Canada. For more information visit: http://www.pinnacle1.com.
More information about PAGE and its work can be found at: here