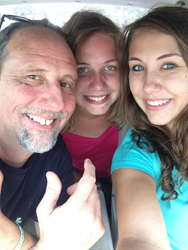 Here's to THAT moment.
Hartford, CT (PRWEB) November 11, 2016
Russ Wilson was a dear friend of Executive Director Phil Valentine and of the Connecticut Community for Addiction Recovery (CCAR), a man in recovery, a father, a son, a brother and a person who loved to write.
Here's a sample of his writing, a "simple" Facebook post:
"That moment, late late Friday afternoon with sunlight still coming in the west windows and another hour of daylight left; when, at the end of the soul-numbing, relentless winter, you understand, with the light, airy half of the year just begun and the trudged-out, slogging half just behind; you know on this first whole day of spring, that green trees, birdsongs, warm bright mornings, cool quiet evenings, are all not only possible, but imminent. Here's to THAT moment." -- March 21, 2014.
Russ was an inspiration to many in the recovery community. CCAR is sponsoring this essay contest in his memory. Russ died on June 28, 2014 of what is now believed to be a subdural hematoma. He was sober when he passed and just 55 years old.
Contestants may choose one of 3 topics for this year's contest.
1. Living in recovery in a "non-recovery" environment.
2. Fear and faith – an inner conflict.
3. My personal pathway of recovery.
The contest begins on November 17, 2016, on Russ' 10th sober anniversary, and runs till December 26, 2016.
All Donations are tax-deductible. Checks can be made payable to Connecticut Community for Addiction Recovery, and mailed to: 198 Wethersfield Avenue, Hartford, CT 06114.
About CCAR:
Since 1998 the Connecticut Community for Addiction Recovery (CCAR) has organized the recovery community (people in recovery, family members, friends and allies) to put a face on recovery and to provide recovery support services to maintain and sustain recovery. By promoting recovery from alcohol and other drug addiction through advocacy, education and service, CCAR strives to end discrimination surrounding addiction and recovery, open new doors and remove barriers to recovery, maintain and sustain recovery regardless of the pathway, all the while ensuring that all people in recovery, and people seeking recovery, are treated with dignity and respect. CCAR envisions a world where the power, hope and healing of recovery from alcohol and other drug addiction is thoroughly understood and embraced. For more information, visit http://www.ccar.us