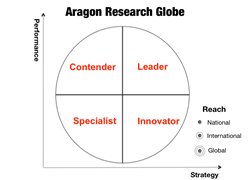 If you're not using DTM, you need to ask yourself why not.
Palo Alto, California (PRWEB) November 02, 2016
Aragon Research, a technology-focused research and advisory firm committed to providing thought leading strategic research and trusted advisory services, announced the publication of its first Globe™ Report for Digital Transaction Management (DTM), 2016.
The research report examines fifteen providers who offer DTM applications that use cloud-based software and services to digitally manage a wide range of document-centric business processes involving people, documents, data, and transactions both inside and outside the firewall. Increasingly, enterprises are searching for solutions to eliminate the processes that slow down their business, and these vendors are filling that need.
"If you're not using DTM, you need to ask yourself why not," said Jim Lundy, CEO and Lead Analyst at Aragon Research. "Enterprises that are leveraging DTM-based processes are seeing their revenue accelerate, giving their customers a better experience, and ensuring they remain compliant."
Learn more about these fifteen providers and how the Digital Transaction Management market is at the center of Digital Transformation by reading The Aragon Research Globe™ for Digital Transaction Management, 2016.
About Aragon Research
Aragon Research is the newest technology research and advisory firm. Aragon delivers high impact interactive research and advisory services to provide enterprises the insight they need to help them make better technology and strategy decisions. Aragon Research serves business and IT leaders and has a proven team of veteran analysts. For more information, visit https://www.aragonresearch.com