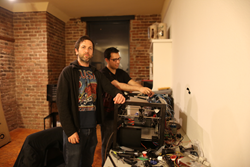 San Francisco, California (PRWEB) November 02, 2016
Today 3D bioprinter start-up Aether announced that Aether has entered into a 3D bioprinting Research Collaboration Agreement with Center for Cancer Nanotechnology Excellence at Stanford University.
Once the product is ready, Aether will provide multiple Aether 1 Bioprinter beta units to the Center for Cancer Nanotechnology Excellence at Stanford University to support research in the field of in silico modeling.
Aether 1 will be used to validate the results of simulations conducted in silico with virtual cells, tissues, and organs, by comparing them to actual biological bioprinted counterparts. In addition to providing Aether 1 3D bioprinters for this research, Aether will also work to create new customizations for the high-precision demands required for this application.
If needed, Aether will attempt to develop engineering solutions to any obstacles encountered during this research.
Center for Cancer Nanotechnology Excellence at Stanford University will provide feedback to Aether to assist in the development of Aether's products.
Aether CEO Ryan Franks said, "We were very excited to have one of the most incredible research centers on Earth express an interest in working with our soon-to-be-released Aether 1 Bioprinter. It was fantastic to learn they specifically wanted to use Aether 1 to support research involving computer simulation models which may simulate the human body better than the current animal model. This was perfectly aligned with Aether's mission to reduce and eliminate animal testing. This would of course be better ethically, but may also dramatically improve the speed of drug and therapy discovery, and make human clinical trials safer."
In alignment with Aether's mission, the current research collaboration will be free from animal testing. Collaborating with a Stanford University research center will be a tremendous opportunity to pursue Aether's goals of using technology to replace animal testing with a better method, and to develop advanced medical treatments that save and improve lives.
Center for Cancer Nanotechnology Excellence will be the first research facility at Stanford University to receive an Aether 1 beta unit. Aether 1 may also be displayed to other cancer and medical research facilities at Stanford, which could potentially expand Aether's future presence within the University.
Aether looks forward to the opportunity to assist Stanford University's legendary brilliant minds. From inside the halls of Stanford research facilities, they push the entire human race forward.
ABOUT AETHER AND AETHER 1 BIOPRINTER
Aether is a technology start-up company located in San Francisco.
Aether is the only company in the bioprinting field to embark upon a large-scale network of research collaborations with many of the world's top universities and government backed institutions.
Aether is currently expanding engineering staff, and making rapid progress preparing Aether 1 beta units for shipment as soon as possible.
Aether 1 is a novel patent-pending system which allows the usage of up to 2 FFF Hot-end Filament Extruders, 8 Syringe Extruders, and 14 Droplet Jet Extruders, all together in a single print. Aether 1's modular system allows for additional accessories such as UV LED Lamp, Laser Engraver, small CNC Drill, Heated Glass Syringe Extruder, Microscope, and more. Critically, Aether 1 has never-before-seen features like Machine Vision based fully Automatic Air Pressure Calibration, fully Automatic Stage-Leveling, Sealed Anodized Aluminum and Glass Exterior, and more amazing features are currently in development.
Aether 1 is light years ahead of other 3D bioprinters on the market. Featuring capabilities, design, and performance far beyond anything available from bioprinters selling for $250,000 or more, yet starting at only $9,000, Aether is destined to become the bioprinting platform of the future.
DISCOVER MORE