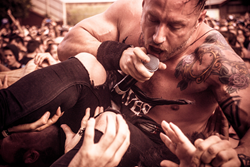 The photograph captures the raw power and anarchic chaos of a heavy metal show. When Greg Puciato went crowdsurfing I was right there with him allowing me to capture his energy. All his muscles were stressed to the max, his shirt was ripped apart.
BRISBANE, AUSTRALIA (PRWEB) November 03, 2016
Claus Rotstein of Brisbane, Australia, who has photographed bands and artists including Slipknot, Joe Bonamassa, Culture Club, Faith No More and Megadeth, has been nominated for the Independent Music Award for his photo of Greg Puciato (Killer Be Killed) taken at Soundwave Festival 2015 in Brisbane.
Claus Rotstein and the photograph are nominated in the category "Artist Concert Photography". The Independent Music Award is an international music award with a jury consisting of musicians like Tom Waits, Dido, Suzanne Vega and Slayer as well as a wide variety of music industry professionals including representatives from Rolling Stone, Sony Music and the Lincoln Center for Performing Arts.
The 15th Independent Music Award Winners will be announced November 12th from Lincoln Center for the Performing Arts in New York City during a free, day-long music festival showcasing exceptional IMA talent. Kicking off the event will be a 'town-hall' meeting where fans, bands and industry discuss new ways to help independent artists prosper.
More About the Artist:
Claus Rotstein's work is focused on rock and heavy metal concerts. He is available for assignments all over the world. His portfolio is available at http://bandslive.org.
###
Journalists and Bloggers:
A variety of photos showing Claus Rotstein's work are at
http://bandslive.org/portfolio/
Claus Rotstein can provide background information and commentary regarding his photographs. He responds quickly to interview requests. Call +61 468 857 112 (cell) or email claus.rotstein(at)gmail.com.