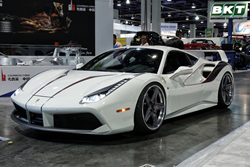 Las Vegas, Nevada (PRWEB) November 02, 2016
Ghost Motorsports is excited to announce that after making a big splash with their Ferrari 458 Speciale at SEMA 2015, this year the company will be debuting a 2017 Ferrari 488 GTB featuring a variety of exterior and performance modifications.
Located in the Sentury Tire booth (#43215), the Ghost Motorsports Ferrari 488 GTB sports an Evoklass rear wing and diffuser, Kompression Wheels (22" in back and 21" upfront), Delinte tires, and was lowered using Evoklass springs. Impressive Wrap did their magic by creating a color scheme that accentuates the 488's body lines.
To give the twin-turbo V8 a more aggressive sound and boost performance, Ghost Motorsports teamed up with Fabspeed Motorsport to fit the Ferrari 488 with a full exhaust system. SEMA attendees are encouraged to stop by the booth to see and hear the car in person.
Recognized as one of the leading automotive aftermarket and performance shops, Ghost Motorsports is honored to have spent the past 15 years modifying cars of all types for customers from around the world, and also to celebrate another fun year at SEMA.
For more information on Ghost Motorsports, including the company's products and services, please call (310) 839-3509 or visit the company website: http://www.ghostmotorsports.com
About Ghost Motorsports:
Ghost Motorsports is a Los Angeles automotive company that manufactures performance parts, provides installation services, and sells aftermarket parts throughout the world. The company specializes in a variety of European, Exotic and domestic cars, and has a wide range of customers including professional athletes, musicians, actors, and diehard car fans.
Contact Information:
Ghost Motorsports
9030 National Blvd.
Los Angeles, CA 90034
Phone: (310) 839-3509
Website: http://www.ghostmotorsports.com
Instagram: @GhostMotorsports