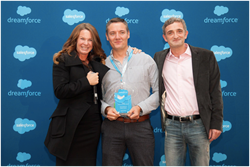 Working with makepositive and Salesforce was a great experience. We have seen a massive uplift in customer service.
London, United Kingdom (PRWEB UK) 3 November 2016
makepositive today announced that it has helped East Sussex Highways, the joint venture of CH2M and Costain, transform service through an end-to-end customer service solution in the cloud.
For this innovative work, makepositive has been named the recipient of the Salesforce Partner Innovation Award in the Public Sector category. The award was presented at Dreamforce 2016, the world's largest enterprise software event.
CH2M and Costain won the bid to manage all of East Sussex's highways for the next seven years, a project that is worth £300 million. The main objective of the project was to provide a unique customer experience for the public that was entirely customer focussed.
makepositive proposed Salesforce as the technology platform to provide East Sussex Highways' customers with an end-to-end customer service solution that included social and mobile elements. The solution was developed through combining both Salesforce's and makepositive's innovative expertise. East Sussex Highways selected makepositive because the company demonstrated evidence of successful implementations, innovation and providing solutions; and its proof of concept was instrumental in helping the joint venture win the project bid.
"We are delighted to receive this award," said Mark Richards, CEO, makepositive. "Innovation and customer success are at the heart of everything we do and we will continue to enhance our offerings as we help our clients transform their businesses on the Salesforce platform."
"Working with makepositive and Salesforce was a great experience," said Garry Nash, project manager, CH2M. "We have seen a massive uplift in customer service. East Sussex Highways increased the number of cases managed per agent by 60 percent and resulted in a significant channel shift from telephone and email, to web forms and web chat."
"This recognition is a testament to the outstanding contribution makepositive has made to drive innovation and deliver outstanding customer success as a Salesforce partner," said Don Lynch, SVP, Worldwide Alliances, Salesforce.
Additional Resources
Like Salesforce on Facebook
Follow Salesforce on Twitter
Learn more about makepositive
Follow makepositive on Twitter
Salesforce and others are among the trademarks of salesforce.com, inc.
###
makepositive is a Platinum Salesforce consulting partner with over 650 successful project deliveries. Employing more than 90 Salesforce experts, they have a wealth of experience across the entire Salesforce platform, including Sales, Service, Marketing, Communities, Analytics, Force.com and Heroku development. makepositive are one of the most certified Salesforce Marketing Cloud consultancies in the UK&I and have a leading Marketing Cloud practice. They have offices in London, Manchester and India.