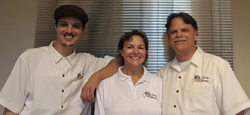 Our suite of services, whether you hire us to handle the project end to end or for one portion, are all aimed at reducing the stress of whatever transition you're facing.
Los Altos, CA (PRWEB) November 02, 2016
When father and son team Marc and Joshua LeBaron decided it was time to open a business aimed at helping people, working with seniors and families seemed like a natural fit. Now the two are excited to announce the launch of their new company, Caring Transitions Silicon Valley North.
Caring Transitions is America's largest resource for managing senior relocations as well as downsizing and estate liquidations. In addition to organizing, packing, de-cluttering, moving and resettling, Caring Transitions can handle estate sales, liquidations, and preparing homes for market. Caring Transitions Silicon Valley North serves Los Altos, Los Altos Hills, Sunnyvale, Mountain View, Atherton, Hillsborough and the surrounding areas.
Marc and Joshua originally went into business together three years ago when they opened a junk hauling service. Although the company was successful, the LeBarons wanted to do something that helped people at a higher level and that had more of a lasting impact. That's what brought them to Caring Transitions.
"We were looking for a company with more of a team atmosphere that gave us the opportunity to have a more significant impact on the lives of our clients. Junk hauling is profitable, but we wanted more than that out of our business. So we sold that business and decided to open Caring Transitions," Marc said.
Whether your situation is planned or unexpected, Caring Transitions' services are perfect for seniors moving in with family or into a safer living situation as well as busy families and people clearing out the home of a loved one who has passed. All of Caring Transitions' services are customizable, so clients only pay for the services they need – whether that means managing the entire move and estate-clearing or just getting someone resettled into their new place.
"I was lucky enough to be able to help three of my grandparents move and to be a caregiver for one of them. People can be selfish sometimes and it's easy to forget that transitions like these can be really challenging for our loved ones. It's important to me that we, as a business and as a family, are advocates for our clients so families have time to spend quality together during what can be a difficult situation," Joshua said.
"Our suite of services, whether you hire us to handle the project end to end or for one portion, are all aimed at reducing the stress of whatever transition you're facing. We want you and your loved ones to be able to experience this life event as a new chapter rather than spending all your time worrying and working," Marc added.
Marc grew up in Sunnyvale and raised his three kids, including Joshua, in the same community. Marc and Joshua actually both attended Homestead High School. Caring Transitions Silicon Valley North is bonded and insured and all employees are background-checked.
For additional information, contact the LeBarons at (408)659-4566, email either MLeBaron@CaringTransitions.com or JLeBaron@CaringTransitions.com, or visit http://www.CaringTransitionsofSVN.com.
About Caring Transitions
Caring Transitions, founded in 2006, is the first national franchising concept specializing in senior relocation and transition services. With nearly 200 locations throughout the United States all owned and operated by Certified Relocation and Transition Specialists, Caring Transitions provides clients with supportive moves, auctions, rightsizing and transitions. This includes expert advice plus a well-executed transition plan beginning with the initial sorting of personal belongings through packing, shipping and selling of items to the final clearing and cleaning of the property. For more information, visit http://www.caringtransitions.com or visit us on Facebook.