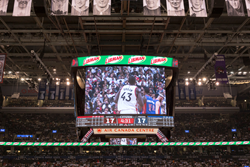 "These basketball team sponsorships allow us to demonstrate our products' efficacy in front of millions of fans," -- Andrew Libman, president of The Libman Company
Arcola, Ill. (PRWEB) November 03, 2016
The Libman Company, a 120-year old manufacturer of cleaning tools including a variety of household and heavy-duty mops, has expanded its current sports sponsorships to include the Toronto Raptors, the Georgia Tech Yellow Jackets and the Arkansas Razorbacks. The move increases the company's basketball sports sponsorships as Libman is currently the official hardwood floor care provider for fourteen teams of The Big 10 conference, the Atlanta Hawks, the Minnesota Timberwolves, and the Charlotte Hornets.
The idea to sponsor basketball teams evolved from the fact that every team – professional and collegiate – has a crew that uses mops to clean the hardwood floor court. "It's a natural fit for us," said Andrew Libman, president of The Libman Company. "These basketball team sponsorships allow us to demonstrate our products' efficacy in front of millions of fans," he said.
The sponsorships include Libman on-court signage, sampling opportunities, Libman-branded attire for the mopping crew as well as Libman-branded mops that they will use.
About The Libman Company
The Libman Company is a family-owned company that has been making quality cleaning tools since 1896. The company manufactures products from brooms and mops to more specialized tools for kitchen and bathroom cleaning and industrial uses. Libman proudly manufactures most of their products in the United States, including the company's well-known Wonder® Mop. For more information about the Libman Company, please visit http://www.libman.com.