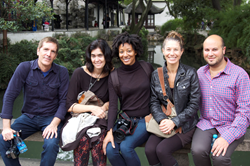 Suzhou, China (PRWEB) November 02, 2016
Journalists and travel agents recently finished a multi-day educational tour of Suzhou in collaboration with the tourism event – Suzhou: A Memorable Experience of the Famed Waterways – which celebrated the city's commitment to welcoming North American tourists. Travel professionals from top agencies including Avanti Destinations, AAA Travel, GOGO Flight Center, and Virtuoso as well as journalists representing influential publications such as Fodor's, The New York Post, The San Diego Union-Tribune and others, spent five days exploring the iconic sights and experiences in the "Venice of China."
The tourism event, which took place on October 15, was a special ceremony involving representatives from China National Tourism Association, Jiangsu government officials, and local members of the Suzhou tourism community. The celebratory experience included cultural performances of traditional drumming, a sampling of local Kunqu opera, a replica of a traditional wedding, and an array of local foods.
During the additional days in Suzhou, the travel professionals' schedule offered quintessential Suzhou experiences, featuring visits to a selection of UNESCO World Heritage Sites such as the Humble Administrator's Garden and Lingering Garden, as well as visits to Tiger Hill, Suzhou Museum, Kunqu Opera, Pinjiang Road, Silk Museum, Suzhou Industrial Park, and authentic meals at iconic restaurants such as Songhelou and Deyuelou.
The visit was part of a multifaceted program by the Suzhou Tourism Municipality designed to raise the awareness and profile of Suzhou among the North American travel community, ultimately resulting in increased travel to the area.
About Suzhou
Suzhou, the "Venice of China," is known for its elegant stone bridges, canals, flowing water, and noteworthy architecture. Located in the center of the Yangtze River Delta, approximately 60 miles west of Shanghai, Suzhou is one of the oldest cities in the Yangtze Basin dating back more than 2,500 years. The city boasts the beautifully manicured Classical Gardens of Suzhou, nine of which have been designated a UNESCO World Heritage Site. Each year, millions of tourists travel to Suzhou to experience the destination's more than 400 attractions, ranging from pagodas and temples to historical districts and world-class museums. As the largest industrial city in China, Suzhou is home to Suzhou Industrial Park (SIP), which boasts five-star hotels, the iconic Lake Jinji, and Asia's largest overwater Ferris Wheel.
Travel to Suzhou is easily accessible via three convenient area airports with non-stop flights from North America: Shanghai Hongqiao International Airport (SHA) offers bullet train service to Suzhou, which is approximately a 50-mile, 30-minute trip; Pudong International Airport (PVG) is approximately 65 miles from Suzhou, an hour and half drive; and Sunan Shuofang International Airport (WUX) is approximately 14 miles from Suzhou, a 30-minute drive.
For more information on Suzhou please visit http://www.TravelToSuzhou.com, follow us on Instagram @visitsuzhou, Twitter @VisitSuzhou and like us on Facebook at Visit Suzhou.
Media Contact:
Robert Einhorn
PHG Consulting
Reinhorn(at)phgconsulting(dot)com
Tel: +1 646 465 9780