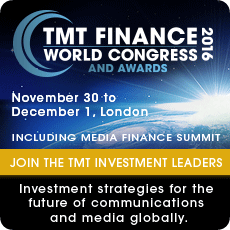 London, UK (PRWEB UK) 2 November 2016
The Telecom Tower M&A Deal of the Year 2016 shortlist has been announced with leading international tower operators American Tower, Edotco, IHS, Helios and Protelindo shortlisted for the Award which will be presented at TMT Finance World Awards 2016 in London on November 30.
Six transactions valued at over US$2bn are shortlisted for the Towers Deal of the Year, with deals in Nigeria, Myanmar, India, Indonesia, Tanzania and DRC, reflecting an increasingly mature towers sector globally, and growing emerging market consolidation.
Key banking advisers represented on the shortlist include Credit Suisse, UBS, Citi, Evercore, Bank of America Merrill Lynch, Macquarie and Kotak Investment Banking. Telecom operators involved on the sell side include Axiata, Airtel, Tata, MTC and Viom.
The winners of Deal of the Year will be by selected by a Judges' Panel comprising 15 of the most experienced TMT executives, bankers and advisers globally and presented at the TMT Finance World Awards Dinner on November 30.
Awards will be also presented for other key areas of TMT including Telecoms, Media, Tech and Financing Deal of the Year, TMT M&A Adviser, TMT Financing Bank, TMT Leader, Growth Story and Legal Adviser.
Telecom Tower M&A Deal of the Year 2016 Shortlist:

ATC's acquisition of Viom Networks in India, from Tata and Srei Infrastructure for US$1.14bn
Evercore, Kotak Investment Banking advised ATC; Credit Suisse advised Viom
ATC's acquisition of Airtel Tanzanian towers for US$180m.
(No advisers.)
edotco's acquisition of MTC in Myanmar for US$221m
(No advisers)
IHS Towers' acquisition of HTN in Nigeria for undisclosed amount
UBS advised IHS Towers; Citi advised HTN.
Helios Towers Africa's acquisition of Airtel DRC towers for US$150m
(No advisers)
Protelindo's acquisition of 2,500 towers from XL Axiata's in Indonesia for US$267.2m
XL advised by BAML; Protelindo advised by Macquarie
For the other TMT Deal of the Year Awards Shortlists and category information, or to attend the Awards Dinner go to http://www.tmtfinance.com/world/awards
TMT Finance World Awards recognise outstanding investment activity by Telecom, Media and Tech leaders and their investment banking and strategy advisers.
TMT Finance World Awards Dinner 2016 follows the TMT Finance World Congress in London on November 30.