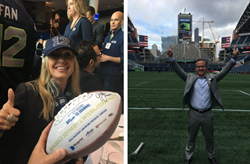 "Savvy brokers recognize this trend and we're behind them to reach their goals. Our growth is only because of their growth. We congratulate our RSIR Nation on another year of tremendous success and accomplishment."
Seattle, Washington (PRWEB) November 02, 2016
Realogics Sotheby's International Realty (RSIR) was recognized by The Puget Sound Business Journal (PSBJ) among the top 100 "Fastest-Growing Private Companies" in Washington State, according to their 2016 Book of Lists. RSIR is ranked 46th on revenues of $20.66 million in 2015 posting an increase of 125.62-percent compared with 2013. The firm was previously ranked 71st in 2015, 91st in 2014, 24th in 2013, and 2nd in 2012. The list was compiled by companies headquartered in Washington State that posted corporate revenues of ate least $500,000 in 2013 compared with 2015. The sold out event was held at Century Link Field on October 21st complete with photo opportunities on the play field, an inspirational speech by former Seahawks Quarterback Jim Zorn and a performance by the Seahawks "Blue Thunder" drum team.
"The Blue Thunder drumbeat is appropriate for what's happening at Realogics Sotheby's International Realty and for our global network around the world," said Jennifer Johnsen Cameron, Vice President of Brand Development for RSIR. "This honor speaks to the hard work and dedication of 200+ licensed brokers and dedicated employees of RSIR. Our continued growth will helps us support even greater marketing and sales solutions for our clients."
Jennifer Johnsen Cameron is particularly struck by RSIR's ability to remain on the Fastest-Growing Private Companies List given that an annual growth rate of at least 26-percent is required, which is based on the tremendous growth of companies throughout Washington State. According PSBJ's research, 59-percent of the companies on the List are located in Seattle or Bellevue and King County is home to 86 of the 100 companies ranked in 2016. The 100 fastest-growing companies more than doubled their collective workforce since 2013, with total employment now exceeding 10,000 jobs for 2015 and revenues that increased 146-percent from $1.3 billion in 2013 to $3.2 billion in 2015. The fourth and fifth most significant industries represented were construction and real estate – both directly related to RSIR's business model.
Earlier in June 2016, PSBJ recognized RSIR as the 7th Largest Residential Real Estate Firm in Puget Sound for 2015 on $800 million in residential sales. RSIR consistently produces the highest average selling prices amongst its peers and generates the greatest listing sales production on a per-broker basis when compared with the top ten largest brands. In 2016 the company launched a campaign entitled "We Are | Change Agents" and describes the firm's commitment to industry innovation, extraordinary marketing prowess and broker servicing that befits a global company. It also makes note of the new and improved rsir.com, RSIR's Asia Services Group, and the firm's over $2 billion in marketing sales experience for new construction.
"We are challenging the status-quo in our industry and this is best demonstrated by the company we keep, the properties we represent and the results we create," said Stacy Jones, Owner and Vice President of RSIR. "Since we first launched with Sotheby's International Realty in 2010, it's been a meteoric rise for our company and for our brokers. There is plenty more growth ahead with new branch offices and our ever expanding roster of leading sales associates."
Jones points to a similar growth rate for the global network that now boasts nearly 19,000 real estate professionals and 800+ branch offices in 63 countries and territories. In addition to its global footprint, Sotheby's International Realty Affiliates' new SIR.com website now garners more than 1.25 million unique visitors per month and half of this traffic is now being derived outside the US. Worldwide, the SIR network exclusively represents approximately 50,000 of the world's most significant properties for sale.
"As the global status of the Puget Sound region continues to grow, we can no longer have a provincial mindset in this local industry," adds Jones. "Savvy brokers recognize this trend and we're behind them to reach their goals. Our growth is only because of their growth. We congratulate our RSIR Nation on another year of tremendous success and accomplishment."