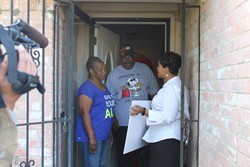 Never spend more than you make. We're not rich, but we know how to use what we have. And we have all we need.
DALLAS, Texas (PRWEB) November 03, 2016
Skepticism turned to shock and finally to celebration for one retired Dallas couple Wednesday morning, as Neighborhood Credit Union leaders surprised Carnell and Mary Simon at their home in the Singing Hills neighborhood of South Oak Cliff with a $10,000 prize for their good savings habits.
"Oh my goodness, I have never won anything in my life!" exclaimed a shocked Mary, when she saw the poster-sized check for $10,000. The actual prize was deposited directly into their savings account.
In fact, she was highly skeptical after she received a phone call from Neighborhood Credit Union Senior Vice President Carolyn Jordan with news that Carnell had won something. "I told Ms. Jordan that she'd better not be trying to sell us something," said Mary.
The Simons joined Neighborhood Credit Union 27 years ago, when Carnell was working for the U.S. Postal Service. Over the years, Carnell said they have bought cars and done business with the credit union, even as they worked, raised two daughters, paid off their home of 40 years and welcomed five grandchildren.
"Mainly, we saved," said Carnell. Now that they are both retired, the Simons explained that they spend a little at a time so they won't go broke.
"We have come from nothing – and I mean nothing – so when we finally got a job with a steady paycheck, we decided not to overspend and put some back," explained Mary. "Plus, I'm married to a stingy man. He is tight!"
Carnell Simon's name was drawn from the ranks of Neighborhood Credit Union's Prize Savings Account holders. At a time when the personal savings rate had dropped to one of the lowest levels in U.S. history, Neighborhood Credit Union established the Prize Savings Account in 2008 to incentivize and encourage people to save more money. The credit union awards a variety of prizes throughout the year, including monthly prizes, three $10,000 prizes and a grand prize at the start of each year – soon to be increased to $50,000. The more a person has saved in his or her Prize Savings Account, the more chances to win a prize.
"The Simons are excellent financial role models," said Jordan. "They live within their means and find a way to save and set aside money as an investment in their future."
"Never spend more than you make," said Mary. "We're not rich, but we know how to use what we have. And we have all we need."
See Video Clips of the Surprise Delivery to Carnell and Mary Simon:
https://www.youtube.com/watch?v=Or3HLY0l3WQ
How the Prize Savings Account works: Neighborhood Credit Union members receive one drawing entry for every $25 monthly average balance in their Prize Savings Accounts. The greater the savings, the greater the chance a member has of winning. Members are eligible for monthly $1,000 drawings and quarterly $10,000 drawings. At the start of each year, a winner is drawn for the newly-increased $50,000 grand prize based on the average monthly balance in the savings account at close of business December 31.
About Neighborhood Credit Union: The oldest credit union in Dallas (chartered April 18, 1930), Neighborhood Credit Union is a not-for-profit financial organization serving Dallas, Denton and Ellis counties, as well as the cities of Arlington and Midland. With branches in Dallas, Richardson, Arlington, Mesquite, Duncanville, Waxahachie, Lancaster, Grand Prairie, Coppell and Midland and assets topping $590 million, Neighborhood Credit Union has a membership of 48,000 and continues to welcome new members daily. For more information, call (214) 748-9393 or visit http://www.myncu.com.